10 July 2015, ©. Leeham Co: We have just witnessed the first solar electrical aircraft, Solar Impulse 2, cross the ocean from Tokyo to Hawaii. Today, Friday, Airbus Group will cross the English Channel with a battery powered electrical aircraft, the E-Fan.
How real is electrical flying? Real enough to make demonstration flights like the one to Hawaii and to Calais. Both these aircraft are technology demonstrators but it is symptomatic that they do these hops now, 2015.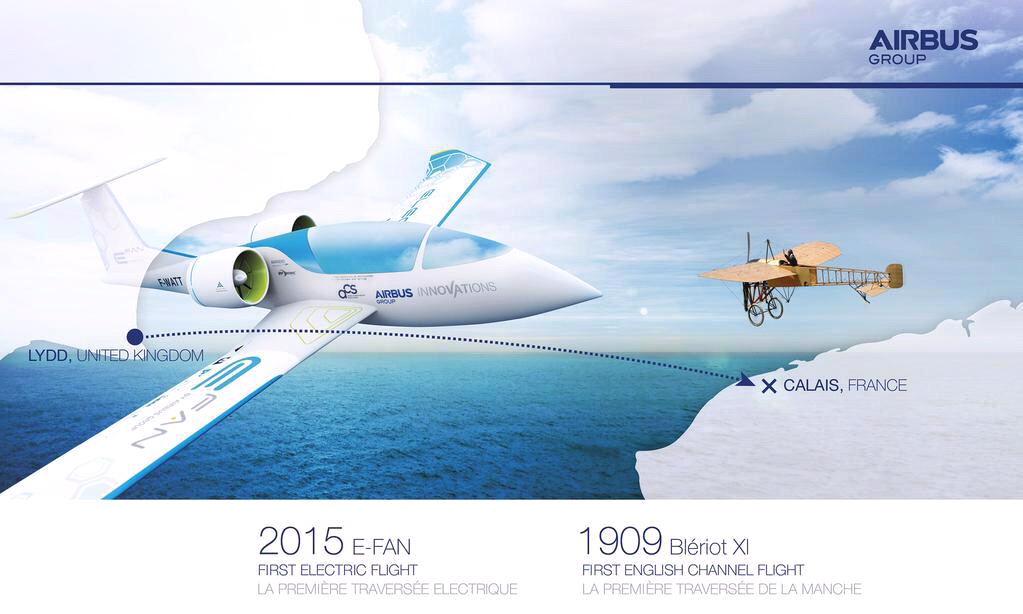 Airbus Group's E-Fan aircraft is preparing to cross the English Channel. Source: Airbus.
We live in the years when electrical cars have gone from exotic one-offs to serial produced products, still expensive but more and more practical. Why should not the aircraft industry follow?
The car industry relied on the computer industry to develop affordable power dense batteries. These were needed for the laptops and it perfected the Lithium-ion chemistry battery and brought the production systems for these hard to produce batteries to mass production. Today Li-ion batteries are produced for smartphones, computers, cars and many other applications.
The Solar power industry that created solar cells to mount on one's house perfected the solar cell unit and brought this to mass production and affordable prices. Finally the hybrid and full electrical car industry developed the power electronics needed for all the conversions and control of the electrical energy that drives the electrical engines. With all components there, why is the fact that Airbus E-Fan flies across the Channel and that its subsidiary, Voltair, will produce a commercially available electrical trainer for 2017 and a general purpose four seater aircraft for 2019 such a sensation?
The problems involved
To get an airplane to fly is a technological challenge. To get it to fly on electrical power is a mega challenge. The smallest problem is designing the aircraft and finding a suitable electrical motor. Electrical motors have gotten more and more efficient in recent years. An example of the latest development is that Siemens has developed an electrical motor for aircraft which has a power density of 5kw per kg motor instead of the usual 1 kW per kg. Today's hybrid cars are at 2kW per kg. The engine will deliver 260kW/350hp from 50kg own weight and drive the propeller or fan with the customary 2,500 rpm without reduction gear. The engine should fly in prototype later this year.
While things look good from the engine side, they are less rosy on the source of electricity. We know that the big problem for electrical cars is the batteries and for aircraft it is no different. If one does not want to have an airplane with 60m span wings filled with solar panels on the top, one has to use stored energy somehow or go for a hybrid setup. Battery storage of energy is still troublesome. The car industry drives the technology and the Tesla model S Sport-sedan is perhaps the most successful example rolling on the roads just now, with almost adequate range and good performance.
But it costs; the price one pays for endurance and performance is many standardized Li-ion cells, and these come at a price.  Tesla uses 7,100 Li-Ion cells in a 540kg heavy battery module, which gives you 85kW during one hour or less power during several hours. To feed our 260kW motor we need several of these half tonne battery modules. At 7,100 Li-Ion cells each, the modules cost a pretty penny and weigh half a tonne each.
The battery module for the E-Fan, that has one hour to cross the Channel before the juice is "no more," has 3000 batteries in the wing-roots weighing 170kg driving its two 30kW motors. Charged batteries as a power source will probably be OK for demo aircraft and perhaps flight trainers, but not for aircraft with longer endurance and therefore range.
Aircraft with range
To get aircraft with range one would have to use a hybrid setup. A hybrid is where an electrical motor would be driven by a smaller battery which is topped up by an electrical generator which in turn is driven by some form of combustion engine. The reason we need thermal engines to help us give the aircraft endurance is that the stored energy in our daily fuels is just amazing. The energy density is hard to beat.  With about 12 kWh per kg fuel, we need less than 8kg normal aviation gasoline or similar fuel to match the Tesla battery energy store of over 500kg.
With this it is easy to understand there is a lot of work with re-chargeable energy store systems before we can use the wall outlet to charge our longer range aircraft. Hybrid concepts like Airbus will use for the larger aircraft will make the E-Fan more universally usable by around 2020. They use the unmatched energy density of conventional fuels and have that drive an electrical generator, which tops up the batteries of the aircraft to give it an acceptable endurance.
The problem from an efficiency standpoint is all the conversions. First, from thermal energy to mechanical, then to electrical and from electrical to mechanical again. As a range extender it can be OK, as the main battery load came from the wall outlet and that energy was produced by our efficient power stations.
Airbus Voltair, which will produce the E-Fan 2.0 trainer by 2017, will stay all battery-powered for the trainer. The endurance of about an hour or so is acceptable for a trainer. After an hour, the pupil learning to fly is exhausted anyway and it is time to land and give him a break and the aircraft a charge. Most likely the aircraft will come with exchangeable battery packs, otherwise there would be long waiting times between training flights.
For the more general four seater called E-Fan 4.0 available 2019, a range extender is needed. The main energy comes from a battery charged with cheap power-outlet electricity and the aircraft has a small combustion engine-generator to top up the battery to extend the endurance and thereby the range from two hours to three and a half.
The stored energy in batteries takes care of the energy peaks like take-off and as the thermal engine-generator will not be dimensioned for these peaks, it can be made small and light. It remains to see what it costs and how practical the aircraft will be, but one can't fault Airbus Group Innovation for not trying.
Summary
It is exciting that we are now starting the era of electrical aircraft; they promise extremely good environmental characteristics if one disregard the battery production and disposal process. As usual, everything will not be perfect from start but the potential is there to make inroads on the combustion- driven aircraft's turf and Airbus is talking about a regional airliner in the pipe for 2050. Its virtue will be all hours operations into town airports as it will be a quiet shadow in the night.
Who would have thought that 2015 would be the year of the electrical aircraft?