June 5, 2017, © Leeham Co.: Airbus "likely" will decide this year to lower production rates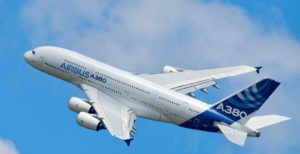 below 1/mo in 2019, officials said today during a press event at the IATA Annual General Meeting in Cancun, Mexico.
They declined to indicate what the "likely" rate will be, despite being pressed several times.
John Leahy, COO-Customers, was making the case to reporters that despite a slowdown in order now experienced by the industry, production rates won't come down.
Due to record backlogs at Airbus, "and Boeing is not that far behind us, we are increasing production," Leahy said. "We're moving up to rate 60 [per month] on the single aisle. I'd like to see the rate even higher.
"We'll be at rate 10 on the A350 we're stabilizing at rate six on the A330 and we're looking at the A380 and how to break even at about less than one airplane a month. That's a unique situation, as you'll see for a unique airplane."
Reporters jumped on the news.
Decision needed this year
"Yes, it's likely we may have to go below rate one," said Didier Evrard, EVP Programmes. "We will continue to study possibilities to go below rate one while keeping the program [at break even] on the financial side."
Airbus needs orders this year to maintain rate one, the company said., although Leahy said accelerating orders from future years into 2019 could maintain rate one.
"There are various things that can be done, but the important point is to get the airplane to at least break even at a lower production rate to get through a period of softness in the market for large airplanes so that we are there for the airplane in the next decade," Leahy said. "We think it's going to be very strong."
Leahy declined to say what the lower rates are Airbus is studying.
"I'm looking to maintain the rate [1/mo], he said. "Didier is trying to protect if we have to go below that. We don't lose money on the program."