By Bryan Corliss
June 5, 2019, © Leeham News, Coeur d'Alene (ID) — Within a decade, 3-D printing will begin to revolutionize the way companies fabricate and assemble aircraft–and just about everything else humans manufacture.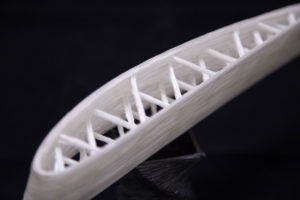 That was the message delivered by panelists at the I-90 Aerospace Corridor Conference & Expo.
The conference, for aerospace companies in eastern Oregon and Washington, northern Idaho and western Montana, was held May 27-28 in Coeur d'Alene (ID).
Companies are experimenting with the current generation of the technology now, said David Minerath, the president of Quest Integration, based in Post Falls (ID), whose company sells 3-D modeling and printing technology to manufacturers.
"We do have a lot of printers at aerospace companies, but they're very sensitive about where these parts are going," Minerath said.
Costs are coming down, he said. With units costing as little as $2,000 apiece, it's possible for companies to stack five together in a room running parts.
"You're getting close to low-rate production," Minerath said.
And it's easy, he said. "It's like you're doing 'file, print' to your laser printer."
"Additive" technology literally the opposite of current process
Idaho company has patents on fast-curing process
Will allow changes in how parts are produced and assembled
It all adds up

Additive manufacturing is the current industry buzzword for the process that's long been referred to as 3-D printing. Insiders say it's a more-precise description of the process, and one that emphasizes the difference with the way parts traditionally have been fabricated with machine tools.
With additive manufacturing, machines (or sometimes humans) build up layers of composite materials to create a part. In contrast, traditional "subtractive" parts fabrication involves taking a blank piece of metal and cutting away the unneeded pieces until only the part itself is left.
Which is better? Both have drawbacks, and for the past few decades, designers of aircraft and other devices have balanced trade-offs when deciding which to use.
Traditional subtractive metal-grinding wastes a lot of material, but it results in sturdier (yet heavier) metal parts. It's also a straight-forward production process: one highly skilled machine operator can take an engineer's drawing, program the machining tool and monitor its progress to ensure it spits out a part that meets the aerospace industry's exacting specifications.
Additive manufacturing, to date, has been far more labor-intensive, explained Tyler Alvarado, the chief executive of Continuous Composites in Coeur d'Alene.
Lighter material
The advantage to composites is that they're lighter than steel or aluminum. However, to build a piece from composites means buying sheets of a carbon-fiber material that have been pre-impregnated with a sophisticated resin and storing them in a giant freezer until they're ready to be thawed and used.
Then either a machine – or a team of humans – will cut the pre-preg fiber into pieces that are laid on a mandrel, or mold. Once this process is done, the whole thing goes into an autoclave. (Alvarado, who gave a presentation on additive manufacturing to local high school students at the conference, described the autoclaves as large pressure cookers.) There it gets baked and pressed into a solid.
Boeing made a giant leap toward additive manufacturing with the 787 program, which famously uses more carbon fiber than any commercial aircraft before it.
But the high cost of the labor-intensive handling is keeping more manufacturers from using the best carbon-fiber composites more widely, Alvarado said. Right now, it's a material reserved for high-end recreational gear (think top-of-the-line racing bicycles), luxury cars–and the aerospace industry.
That could be about to change.
Breaking the mold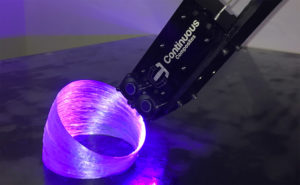 Alvarado told those attending the I-90 conference that some of the most-important employees at Continuous Composites these days are their patent attorneys. The company holds U.S. and foreign patents on a combination of hardware and software that allows its machines to laid down layers of carbon fiber impregnated with fast-drying resins into any 3-D shape that a customer could desire.
The resin dries fast enough to eliminate the need for an autoclave, and the head of the machine is laying down in the current shape, which eliminates the need for a mandrel.
The combination cuts down the number of steps involved to get from design to product, and it eliminates a lot of the materials handling involved, Alvarado said.
Alvarado said his company is in talks with Fortune 100 companies and aerospace and defense manufacturers (he didn't specify which ones) who want to license it for their factories.
Given the rigorous certification standards in commercial aerospace, Alvarado said he expects the first users will be manufacturers of missiles and drones, which aren't carrying people into the air.
Continuous Composites isn't the only company making dramatic advances in additive manufacturing, Minerath said.
Dave Fields, an associate dean of engineering at Washington State University, said researchers at his school are studying how to use metal fibers in a process that would similar to what Alvarado's company is doing with carbon fibers and resin.
But one thing that's holding the industry back is a lack of agreement on standards.
As it stands now, different machines can use the same carbon fiber materials but give different results. The same machine can produce parts with very different properties, depending on how the fibers are oriented, he said.
But once the industry does come together on standards, it will bring fundamental changes to how aircraft are designed and built, the panelists said.
Revolutionize parts design, production
Right now, designing an aircraft parts requires engineers to make trade-offs between what the ideal part would look like in theory – and what the technology will allow them to create in the real world.
Take, for example, a hollow part. Machine tools can't feasibly grind one, so today's metal parts that need to be hollow are designed in curved pieces that then are bolted together.
But with the latest 3-D printing tools, you can produce a hollow part, said Scott Atkins, the research and development manager at WMD Tech in Boise.
His company is spending a good amount of time with designers teaching them how to take advantage of the new additive manufacturing tools, he said. "You're almost re-learning how to design at that point."
There's a big plus when aerospace parts can be built this way, Alvarado noted: The process does away with unneeded fasteners. Thirty percent of an airplane's weight is simply the nuts and bolts that hold it together, he said.
"As manufacturers, we went to make things smarter, lighter, faster," Minerath said. The new additive manufacturing tools do that, he proclaimed.
The future is (almost) now
Atkins said he believe that the next generation of 3-D printers will be the ones that take additive manufacturing from handy tools for working out prototypes to full-fledged production machines.
The other panelists agreed.
"We're past the point of no return," Alvarado said. "The world is recognizing the value of these processes."
"It's mind-boggling," added Minerath. "We have technology that is staggering in what it's capable of doing."