By Bryan Corliss
June 5, 2019, © Leeham News, Coeur d'Alene (ID) — Within a decade, 3-D printing will begin to revolutionize the way companies fabricate and assemble aircraft–and just about everything else humans manufacture.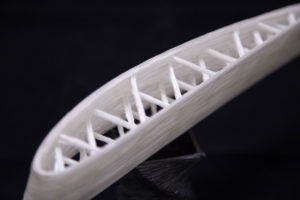 That was the message delivered by panelists at the I-90 Aerospace Corridor Conference & Expo.
The conference, for aerospace companies in eastern Oregon and Washington, northern Idaho and western Montana, was held May 27-28 in Coeur d'Alene (ID).
Companies are experimenting with the current generation of the technology now, said David Minerath, the president of Quest Integration, based in Post Falls (ID), whose company sells 3-D modeling and printing technology to manufacturers.
"We do have a lot of printers at aerospace companies, but they're very sensitive about where these parts are going," Minerath said.
Costs are coming down, he said. With units costing as little as $2,000 apiece, it's possible for companies to stack five together in a room running parts.
"You're getting close to low-rate production," Minerath said.
And it's easy, he said. "It's like you're doing 'file, print' to your laser printer."
"Additive" technology literally the opposite of current process
Idaho company has patents on fast-curing process
Will allow changes in how parts are produced and assembled