July 12, 2019, © Leeham News: Airbus has pulled the 50th year anniversary book it commissioned from veteran aviation reporter

Nicola Clark.
LNA reviewed the book, Airbus: The First 50 Years, Monday.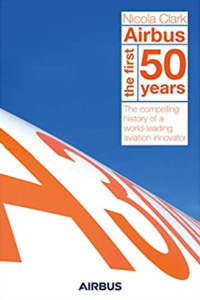 Reuters, the first to report the move, reported that concerns over the timing as Airbus attempts to put more than five years of fraud investigations behind it were the reason. Reuters also reported "Airbus said the version seen by the public was a draft. 'The draft wasn't consistent with our ambition for celebrating 50 years of pioneering progress,' the Airbus spokesman said."
The book had been sold on Amazon Kindle and printed versions intended for distribution at the Paris Air Show were withdrawn. LNA's review appeared July 8, after the air show. The Kindle book sales have also been halted.
The book had been commissioned by the regime of former CEO Tom Enders. Enders retired April 1. It was a candid book of the Airbus history that looked at the warts and the accomplishments. It wasn't the typical puff-piece commissioned book—which made it the best such anniversary book LNA has ever read.