Sept. 25, 2019, © Leeham News: As many as 135 Airbus and Boeing jets could be dumped on the market following the bankruptcies or cessation of operations of five airlines and a financially distressed sixth carrier that is a subsidiary of one of the bankrupt ones.
Thomas Cook, the travel company that is parent to Thomas Cook Airlines, Thomas Cook Scandinavia and Condor Airlines decla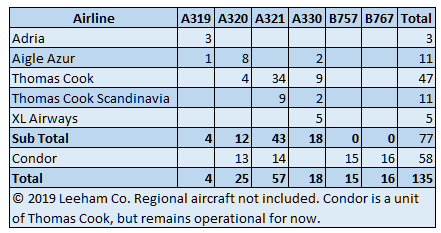 red insolvency Monday. The two Thomas Cook airlines ceased operations.
Condor maintained service for now and received an emergency loan of €380m loan from the German government. But its long-term survival may depend on acquisition by the Lufthansa Group.
Blood bath
Eighteen airlines globally ceased operations since the first of the year, but this past 10 days has been a European blood bath.
Five airlines ceased operations: Aigle Airlines, two of three Thomas Cook carriers, France's XL Airways and Adria.
Adria operated a mixed fleet of regional jets and three Airbus A319s.