Subscription Required
By Vincent Valery and Scott Hamilton
Introduction  
Oct. 12, 2020, © Leeham News: The latest developments suggest that the FAA could lift the Boeing 737 MAX grounding by the end of November. The grounding lasted far longer than most industry insiders and Boeing expected.
Simultaneously, Boeing is working around the clock to get the ~460 737 MAXes produced since March 2019 ready for delivery to customers. The task became more complex as a result of the COVID-19 outbreak. Operators that previously couldn't get 737 MAXes fast enough don't need the extra capacity anytime soon.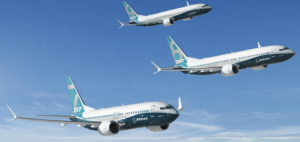 Numerous airlines are in a precarious financial situation and won't be willing or able to take new aircraft. Several lessors canceled near-term orders, while airlines are negotiating delivery delays.
With that in mind, LNA analyzes the most up-to-date delivery and production plans for the 737 MAX in future years.
Summary
Deliveries stretched into the future;
Ambitiously clearing inventory, then ramping-up production;
One variant represents the bulk of deliveries; and
Near-term deliveries by customer.