By Kathryn B. Creedy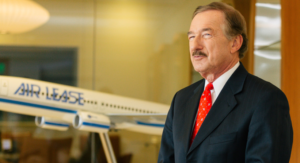 Air Lease Executive Chair Steven Udvar Hazy expects lessors to play a larger role in aircraft fleeting in the future, according to comments made during yesterday's Aviation Week Fireside Chat with the lessor.
"I don't see lessors going below 40%," he told Air Transport World Editor Karen Walker. "I see it creeping up to perhaps 50% or 55% and that includes operating leases and various other exotic mechanisms."
Udvar Hazy pointed to the poor financial shape of the world's airlines which have used all their current levers to increase liquidity to ride out the Covid 19 crisis.
Air Lease Has $7 bn in Liquidity
"Lessors have demonstrated much stronger liquidity and access to capital than airlines," he said. "If you look at borrowing, the spread between the treasury and what lessors are paying has come down. The best airline is probably 300 basis point different. Air Lease has $7 bn in unused liquidity, so we have a lot of firepower to transition through this cycle and help airlines modernize their fleets. So, I believe the relationship between lessors and airlines will continue to grow. We will be able to help the airline industry get through this crisis and beyond."
He admitted both airlines and lessors were caught by surprise on the impact of the pandemic and the longevity of the recovery compared to previous financial shocks. For lessors it means a new level of discipline and policies on how to deal with the airlines.
Airlines Held On to Fleet Too Long in Search of Market Share
"Airlines have to take ever more drastic measures and they have approached government and lenders and tapped out all the available capital while leaning on lessors to re-optimize fleet and restructure leases," said Udvar Hazy. "Airlines had held off on fleet retirements. They had too many aircraft that should have already been gone as they chased market share. So, there were a lot of planes flying in 2020 that should have already been retired. Airlines held on to them too long."
As he watched airlines re-examine their fleets shedding the A380 the 747 and other aircraft he said these are the drastic changes required for both crewing and operational efficiencies resulting in contractions at both ends of the aircraft spectrum.
Throughout the crisis, he said, airlines and lessors have been in crisis management taking only a short-term view of how to navigate through the story.
"No one was looking at where we'll be in five years," he said. "Governments were increasing airline ownership positions, airline access to debt capital was limited and resulted in leveraging aircraft, slots and frequent flyer programs among other assets. That means access to capital in the future will be very limited because airlines are at the end of their borrowing capacity. If the recovery takes a long time, they will have to rely on outside sources and aircraft lessors are in far better shape in terms of capital allowing airlines to use lessors as a crutch."
Spotty Recovery But Signs Appearing
The trends Udvar Hazy is seeing is the rapid recovery of the domestic China market and places like New Zealand at the expense of international services. Travelers have signaled they want to minimize exposure to the airport and reduce the touchpoints which is driving more non-stop and direct routes as passengers avoid connections.
"This has a negative impact on the network carriers but it is hard to say how the recovery will develop," he told Walker. "The recovery is very spotty and there are no global trends we can see but we are seeing some positive signs. The key to all this will be lifting government restrictions on travel and sufficient vaccines to get people to trust the safety of travel. Hopefully, we will see signs of that in the first part of 2021 and that will begin to temper the negativity and fears about flying."
Udvar Hazy pivoted to answer questions about the return of the Max and whether covid-related market conditions have created white tails as airlines restructured their order books.
Wait-and-See Game on How Order Books Affected
"When we entered the crisis in March there were 10,000 new single-aisle aircraft in backlog," he reported. "That is almost 40% of the whole global fleet in backlog. Airbus has had production challenges and its supply chain couldn't cope resulting in late deliveries. At the same time, Boeing hasn't been able to deliver the Max since March 2019 and, in our case, we had 15 Maxes delivered and grounded. Today we have 50."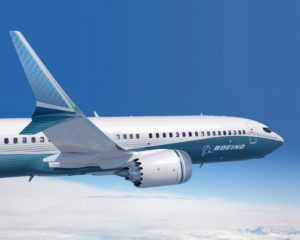 He cited a contractual clause saying in most cases if the manufacturer cannot deliver or the airline cannot take delivery within 12 months of scheduled delivery, both are free to walk away.
"Some airlines cancelled to reduce their financial exposure," he explained. "Other players exercised their cancellation authority in hopes of restructuring the deal on pricing later. What we have today is a huge inventory that has been built, many of which have been cancelled so it's a wait-and-see game. Boeing has the largest inventory of undelivered aircraft in its history and it also has the 787 inventory that has been built. Airlines are reluctant to make long-term commitments in an era of uncertainty and, besides the pandemic, we have the uncertainty surrounding the certification and training requirements for the MAX. So, many regulatory hurdles remain to be overcome a no one can put an exact timetable on when it might return. I would say those 'white tails' are in transition and we do not know whether they will go to their original customers or lessors. Boeing has to make some tough decisions before the end of the year on these issues."
He concluded the uncertainty has a short-term impact on values. However, growing environmental concerns and the efficiencies of new aircraft will mean the MAX will regain favor especially since Airbus is having delivery problems and, for many airlines, Boeing is in their DNA.
"It is not that easy to change manufacturers with all the infrastructure and personnel requirements," he said, "The 737 will come back but it has suffered a black eye and it will take a while to gain equilibrium."
Hurdle For Chinese Aircraft Will Be Product Support, Trade Issues
Pivoting again to the growth of Chinese indigenous aircraft, Udvar Hazy said the biggest barrier is customer support coupled with potential trade issues. He noted if trade disputes precluded the delivery of the Leap Engine already slated for the C919, other engines are available so it would go forward.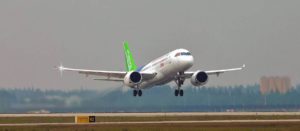 "In the last 20 years, China has made a very dedicated commitment to the development of its aerospace industry with a lot of investment – more than any other country on the face of the earth," he said. "But to build and train professional pilots and engineers is another issue. It's one thing to build and certify to western standards but to support customers outside the home market is a challenge no one has conquered outside Airbus, Boeing, Embraer and Bombardier. As long as airlines have government ownership, those airlines will be required to take a certain percentage of the C919 and to a lesser extent the ARJ 21. In future it will depend on the production capability that still is a small percentage – maybe 10% – of the overall demand in China. We do not see it dominating so the 737 and the A320 will continue to have a strong presence in the Chinese market."
Airlines will not be able to shrink to profitability regardless of whether or not they are undergoing the equivalent of Chapter 11.
"Chapter 11 allows them to regauge their fleet, re-size the airline and re-examine their networks," he said. "In every case, airlines will be smaller but once they clean up the attic they will have a better base to grow. Those airlines are already talking about new deliveries in 2023 or 2025 that would replace older, obsolete aircraft. While they were rejiggering their companies, they were asking where they go after Chapter 11, what will the network look like. The answers will dictate the airplanes they will need. They are looking beyond the cloud to emerge as a stronger, fitter company and how Air Lease can help them get there."
Asked whether he was optimistic about the future industry, Udvar Hazy concluded by saying the last 50 years have changed the rules and predicted that would continue. "The world needs airlines and needs mobility. The airline business, coupled with technology, will mean changes and we will have to adapt. There is now a lot of awareness of what a pandemic can do but the industry will emerge strong, better understood and more appreciated for its role in the world."