By Kathryn B. Creedy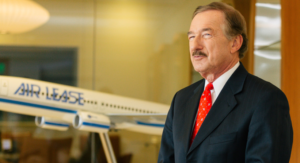 Air Lease Executive Chair Steven Udvar Hazy expects lessors to play a larger role in aircraft fleeting in the future, according to comments made during yesterday's Aviation Week Fireside Chat with the lessor.
"I don't see lessors going below 40%," he told Air Transport World Editor Karen Walker. "I see it creeping up to perhaps 50% or 55% and that includes operating leases and various other exotic mechanisms."
Udvar Hazy pointed to the poor financial shape of the world's airlines which have used all their current levers to increase liquidity to ride out the Covid 19 crisis.