Aug. 5, 2019, © Leeham News: Airbus last week won a big, validating commitment from Air France-KLM Group for 60 orders and more options for the A220-300.
The contract won't be firm until later this year, but the AF Memorandum of Understanding (when converted) brings the A220 order book to 611. There are some other commitments that haven't yet been converted to orders.
Through mid-July, there were 86 A220s in service. There were 465 Letters of Intent, MOUs and Options before the Air France deal was announced.
But of those firm orders, 110 of them aren't so firm. In fact, some of them really shouldn't even be on the books.
Ghost orders
Republic Airways Holdings has an order for 40 A220s and 40 options, a transaction dating to 2009 when Bombardier owned the program.
Republic then owned Frontier Airlines, and the CS300s were intended for this low cost carrier.
But in financial trouble, Republic later sold Frontier to Bill Franke's Indigo Partners group. Republic now had no airline to use the airplanes. Republic later declared bankruptcy, yet did not shed the orders through reorganization. The airplanes remain on the order book, but deferred indefinitely.
Odyssey Airlines is a UK start up with an order for 10 A220-100s, which also began as a BBD deal for the CS100. The carrier planned to use the aircraft to fly from London City Airport to New York and other cities.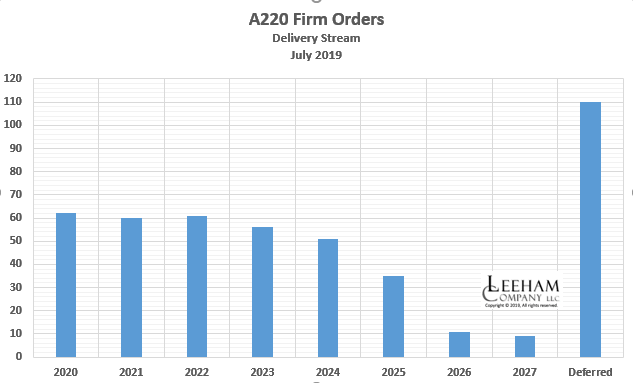 The order was suspect from the beginning because Odyssey was crowd-funding its finances. Unsurprisingly, it hasn't raised the money needed to start operations. The website doesn't even come up anymore. Yet the orders are still on the books.
Braathens Regional Airlines has an order for 10 A220-100s. This, too, is a leftover Bombardier deal. The carrier cited poor domestic market conditions for deferring the aircraft.
Lease Corp International, a tiny lessor, was one of the first customers for the C Series—still under Bombardier at the time—but has repeatedly deferred the order. It has 20 on order.
A changing business plan and a contract price that by today's environment is well above market, LCI is in no hurry to take the airplanes. This, too, is an indefinite deferral.
Ilyushin Finance Corp, a Russian leasing company, and Saudi Gulf Airlines have 30 airplanes between them that are indefinite deferrals. Sanctions against Russia affect delivery to IFC. Saudi ordered Airbus A320neos, with suggestions these would be in lieu of the A220, but the order remains for now.
Like the others, these were also Bombardier deals.
Near bankruptcy
It's clear the move by Bombardier in 2017 to sell a majority share of the C Series (as it was then known) to Airbus is paying off. Airbus owns 50.01% of the program; Bombardier owns about one-third and a Quebec Province pension fund owns the rest.
Bombardier and the pension fund stand to gain when these recent orders under the Airbus leadership begin delivering.
Teetering on the brink of bankruptcy, Bombardier couldn't gain traction with airlines and lessors who questioned the company's ability to survive.
Airbus sealed deals with JetBlue and "Moxy" Airlines at the 2018 Farnborough Air Show, but both were transactions that began under BBD. These were for 60 airplanes each.
At this year's Paris Air Show, Airbus won an important endorsement from lessor Air Lease Corp, which ordered 50.
But it's clear Airbus still has some cleaning up to do. And the order book is inflated with the ghost orders.