Subscription Required
Now open to all readers.
Aug. 5, 2019, © Leeham News: Design issues with the giant General Electric Aviation GE9X are causing untimely headaches for the Boeing 777X program, at a time when the 737 MAX is consuming the company.
The MAX grounding and longer-than-expected fixes and Return to Service (RTS) is overshadowing challenges with the 787 skyline, where a production rate of 14/mo is burning through the backlog faster than new orders are coming in.
The 777X is facing skyline challenges as well. Sales have been slow. One major customer in the Middle East is undergoing a financial and fleet restructuring and another publicly said it will reduce 777X orders if it places a new order for 787-10s.
The 777X delivery schedule has slid to the right due to the engine issues and the 777-8 is a niche airplane that may have a greater future as a freighter than it does as a passenger model.
Discussion
Boosting the skyline
Executives on Boeing's 2Q2019 earnings call expressed disappointment in the delay in first flight caused by the GE engine problems. First flight, which had been expected last spring, now won't occur until early 2020.
Even though flight testing is moving toward as much as a year's delay, Boeing still pledges first delivery in 2020. LNA believes first delivery will slip to 2021. The effects of the Federal Aviation Administration redo on the MAX certification, coupled with unknowns of other certification regulators, may spill over to the 777. Boeing so far says it hasn't seen any negative halo effect. Boeing for now points to the engine for the delays.
"Our first flight test airplanes are now in preflight testing," CEO Dennis Muilenburg said on the earnings call. "Overall the airplane is performing well in preflight tests with intermediate gauntlet and initial taxi test completed during the quarter. Our teams are currently focused on final systems propulsion and airplane level tests.
"However, the GE9X engine remains the pacing item as we work towards first flight," he said. "As we previously mentioned, GE, our engine supplier, is working through some challenges with the engine that are putting [significant] risk on the overall test schedule."
Weak sales
Although Muilenburg pointed to 344 firm orders and another 20 commitments as a solid foundation for the 777X program, sales have been slow and concentrated.
Boeing's own website illustrates the lengthy time between orders and the customer concentration: 68% of the identified, firm orders are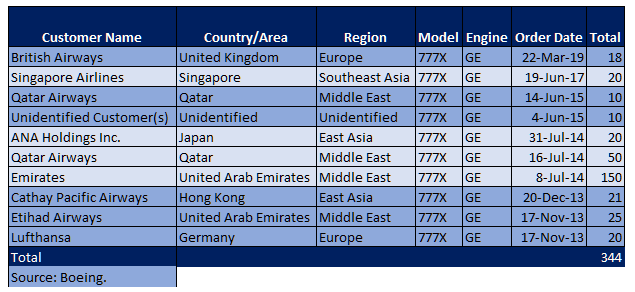 from the Big Three Middle Eastern airlines. There are just 50 777-8 orders, also with the Big Three.
Etihad Airways is undergoing a financial and fleet restructuring. Public reports and market intelligence indicate the carrier wants to reduce the number of 777X orders.
Emirates Airline let a Memorandum of Understanding expire for 40 Boeing 787-10s. It bought Airbus A330neos and A350s instead, canceling a portion of its order for the Airbus A380 in the process. Emirates president Tim Clark acknowledge publicly that negotiations to order the 787-10 began, but a one-for-one reduction of the 777X order would be part of any deal.
It's unclear if this is just a public negotiating tactic or a bona fide position.
Boeing declined comment on customer negotiations.
Boeing predicts a surge of 777X sales as current widebodies hit retirement age next decade. But it will be competing against cheap lift as 10-12 year old 777-300ERs and Airbus A330-300s exit operations but which are too young to head to the scrap heap.
777-8
The 777-8 is a highly niche airplane. Its ultra long range, advertised at up to 8,730nm, is needed on only about 5% of the world's routes. This is why ULR airplanes never have sold well, from the Douglas DC-8-62, Boeing 747SP right on through to the 777-8.
With two of the Big Three Middle East airlines pondering canceling some 777X orders, including the -8 model, market intelligence suggests the 777-8 could be delayed as much as two years. The original plan calls for entry-into-service two years after the 777-9.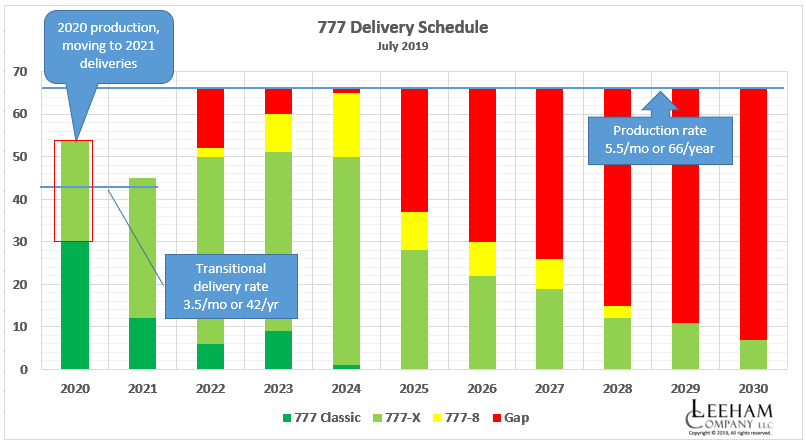 "We made a schedule adjustment to the development of the 777-8 airplane," a Boeing spokesman wrote LNA in an email. "The timing of the 777-8 is aligned with our customers' future fleet requirements and with our disciplined product development and R&D strategy.
"We are not publicly discussing our production schedule for the 777-8. Our plan remains and has always been to focus on entry into service for the 777-9, with the 777-8 to follow several years after that."
This does not confirm or deny the two year slide LNA has been told.
Market intelligence also indicates that Boeing is offering the 777-8F sooner than originally planned. This was to come about two years after the 777-8 passenger model.
"We continue to focus on further bolstering the 777X skyline. On 777X development," Muilenburg said on the earnings call. But no mention was made about a 777F and the Boeing spokesman declined comment.
According to two sources, Boeing is offering at least 25 777-8 freighters to Federal Express. Airbus is offering the A330-900 in a freighter form, as it is to UPS. UPS has the remaining commercial backlog for the 747-8F but needs to replace its Boeing MD-11Fs in the coming years.
Boeing did not comment.
"We anticipate that…we'll probably build more current generation 777s, 777 freighters in that time frame. The good thing is that the market signals are positive there. We have made progress on continuing to sell 777 freighters," Muilenburg said on the earnings call.