Subscription Required
Introduction
Feb. 21, 2019, © Leeham News: Airbus is boosting the A320 production to 60/mo this year and 63/mo next year.
But it's put a pause on increasing the A350 rate from 10/mo to 13/mo.
Boeing was widely expected to follow its planned 737 rate hike of 57/mo, from this summer, to 63/mo next year to keep up with demand and with Airbus.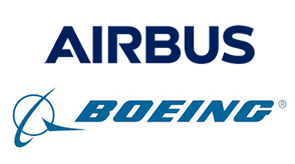 However, on the sidelines of the annual Pacific Northwest Aerospace Alliance conference last week, LNA learned that a 737 rate hike to 63/mo has been apparently put on a pause. Although Boeing has not made a decision to go to rate 63, the hike was expected in 2021, according to suppliers. This is now showing as 2022, they said.
Summary
Airbus, Boeing backlog for single-aisle airplanes extends years.
Both have ramped up production to meet demand, create delivery positions.
Supply chain struggles to keep up.
Twin-aisle demand waits for replacement surge.