Dec. 11, 2019, © Leeham News: With confirmation by the Federal Aviation Administration that recertification of the 737 MAX won't happen until 2020, Boeing is rapidly facing a decision whether to reduce or suspend MAX production.
With no end in sight, Boeing can't continue production of the MAX at the rate of 42/mo much longer.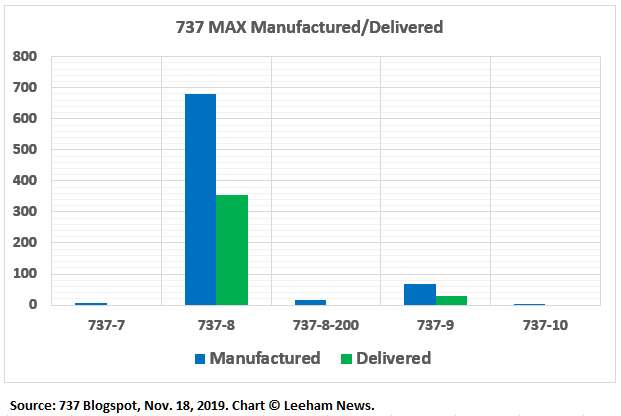 Through Dec. 6, there were just under 400 MAXes that have been produced. Another 381 MAXes were in service when global regulators grounded the fleet March 11-13.
The issue is not cash
The issue for Boeing is not financial, although clearly Boeing is pumping cash out the door every month. Boeing had plenty of liquidity at Sept. 30, its last reporting period. It also has plenty of room to raise more money in the debt markets. It also could, should things come to it, postpone completing the Boeing-Embraer joint venture (which still is pending regulatory approvals) and potentially use the $4.5bn in debt raised to buy 80% of Embraer Commercial Aviation.
The issue is finding parking for and managing the inventory of more than 400 airplanes that will have been produced by the end of December. January will add another 42 MAXes at the current production rate, and so on.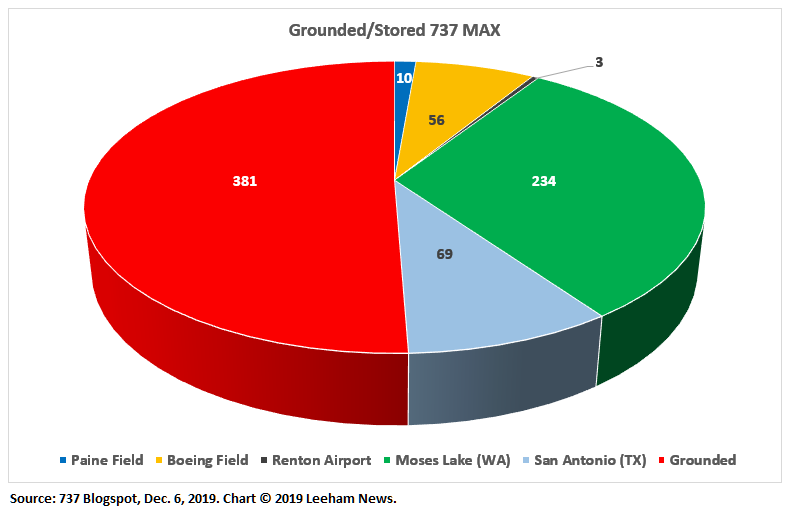 No end of grounding in sight
Boeing only a month ago thought the MAX would be recertified this month. The FAA administrator, Stephen Dickson, quickly shot that down. Today, he was specific in an interview with CNBC and in testimony before Congress.
Certification won't happen until next year.
He then went on to list a general set of processes and steps that have yet to be done across several FAA reviews.
He did not specify what other regulators will do and when they will do it.
EASA, the European agency, previously said it will probably run about 30 days behind the FAA. Ryanair, a European airline, doesn't expect recertification until spring. It no longer expects its MAXes to be delivered before the summer.
Instead of growing clarity, the ambiguities seem as prevalent as ever.
Nearing a decision
All this means Boeing executives have to decide very soon—perhaps as early as this month, more likely in January—whether to reduce production or suspend it entirely.
"We continue to work closely with the FAA and global regulators towards certification and the safe return to service of the MAX," a Boeing spokesman wrote LNA when asked about reports in the supply chain that a suspension is coming. "At this time, we continue to produce the 737 at the rate of 42 airplanes per month. Our objective is to ensure supply chain health and production system stability. We will continue to assess production decisions based on the timing and conditions of return to service, which will be based on regulatory approvals and may vary by jurisdiction."
Boeing's 2019 financial results will be announced Jan. 29. A suspension of stock dividends is already expected, a major move by Boeing that the Board has resisted since the grounding. (Stock buybacks were suspended right away.)
If a decision is made to cut or suspend production, an announcement may come before the earnings call on the 29th.