Dec. 11, 2019, © Leeham News: A new round of Congressional Hearings about the Boeing 737 MAX got underway today.
Before the hearing began at the House Transportation Committee, FAA Administrator Steve Dickson appeared on CNBC today. Among his statements: recertification of the MAX will slip to 2020, confirming what had become apparent for some time.
"Like I said there are a number of processes, milestones, that have to be completed," Dickson said in an interview on "Squawk Box." "If you just do the math, it's going to extend into 2020," he told CNBC.
House Hearing
At the House hearing today, Dickson said the FAA is not delegating any authority to Boeing to recertify the MAX.
He said certification flight test needs to be performed; the Joint Operations Evaluations Board needs to complete its process; and the Technical Advisory Board, which is providing an independent technical review, still has work to do. Dickson said he won't sign off until he flies the airplane.
Matt Kiefer, a member of the TAB, says there are "action items" that must be "closed." He said the changes to MCAS are sound.
Peter Defazio, the chairman of the House Transportation Committee, said an FAA analysis following the Lion Air accident but before the Ethiopian Airlines crash concluded there would be 15 fatal MAX accidents if there was no fix to MCAS. DeFazio asked Dickson why wasn't airplane grounded then? He did not have an answer.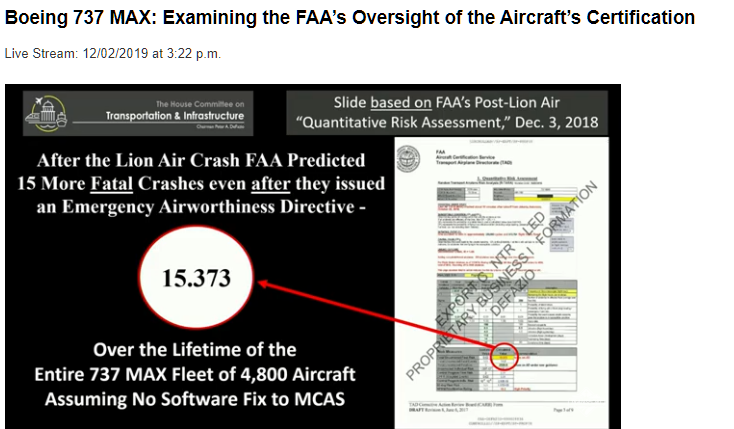 See also the Wall Street Journal article today on this forecast.
Dickson said the safety system "is not broken," but there was inadequate communications and failures in certifying the MAX.
The hearing continues live, here. (Posted 11am EST, Dec. 11.)