Norwegian's attempt to survive
Subscription Required
By Vincent Valery
Introduction
Dec. 12, 2019, © Leeham News: Norwegian Air Shuttle (NAS), struggling to survive after years of over-expansion, took major steps over the last few weeks to overhaul its finances and strategy.
Major strategic shifts included the sale of the Argentinian subsidiary, the end of trans-Atlantic narrowbody operations, and exit out of long-haul markets in two Scandinavian capitals.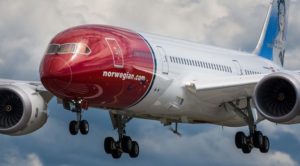 The airline appointed Jacob Shram, a former McKinsey consultant and Statoil executive, as a new CEO. Former JetBlue Chief Commercial Officer Marty St. George is also joining the airline on an interim basis.
After years of breakneck expansion, the airline vowed a shift in focus on profitability and business efficiency. In this article, LNA analyzes the various announcements and assesses whether NAS has a chance to survive in the long term.
Summary
(Finally) cutting the losses;
No stones left unturned to raise cash;
Drastically altered fleet plans;
Chances of working out.
To read the rest of the article Login or Subscribe today.