Oct. 28, 2020, © Leeham News: Boeing released its 3Q2020 and nine months financial report this morning and, as expected, it wasn't pretty.
Boeing burned through more than $4.8bn in cash during the quarter from losses. Another $262m in cash was used on building additions.
For nine months, Boeing reported an operating loss of nearly $6.2bn.
Debt remains at $61bn.
"Commercial Airplanes third-quarter revenue decreased to $3.6bn, reflecting lower delivery volume primarily due to COVID-19 impacts as well as 787 quality issues and associated rework. [Emphasis added.] Third-quarter operating margin decreased to (38.1) percent, primarily driven by lower delivery volume, as well as $590m of abnormal production costs related to the 737 program," Boeing reported.
Boeing Global Services revenue declined by nearly $1bn and earnings fell by slightly more than $400m, impacted by the decline in commercial aviation because of COVID.
The value of the commercial airplanes backlog at Sept. 30 was $312.68bn vs $376.59bn. Boeing delivered 98 airliners in the nine months compared with 301 in 2019. The MAX was grounded March 13, 2019, with deliveries halted then.
The press release is here.
The earnings call is at 10:30am EDT. The call includes a Q&A session from analysts. Boeing canceled the media Q&A normally held afterward. LNA will update the earnings report following the earnings call.
Update 1, 0620 PDT:
Boeing CEO David Calhoun sees a more rapid, and robust recovery from the COVID-19 pandemic than previously forecast.
Speaking on CNBC's Squawk Box, Calhoun said vaccine development is advancing quicker than historical timelines. If vaccines get into global distribution in the first half of next year, Calhoun sees a quicker recovery in the second half, which could be "robust."
The spike in infections in Europe is his top concern now, he said. Asia traffic is recovering. US and European traffic lags previous hopes. Airlines thought they would be at about 40%-45% capacity by year end. Calhoun said it will be closer to 30%.
Boeing continues to ramp down production and the low point will be about mid-year next year, he said.
Update 2:
First Hexcel, then Raytheon and now Boeing each said on earnings calls that passenger traffic is expected to return to pre-COVID levels earlier than previous forecasts.
Hexcel sees a 2022 recovery. Raytheon and Boeing now see recovery in 2023. Consensus forecasts were 2023-2024.
"Expect passenger traffic to return to 2019 levels in ~3 years," Boeing said on its earnings call. A "return to long-term trend [will come] a few years thereafter."
Boeing summarized its transformation plan on the earnings call: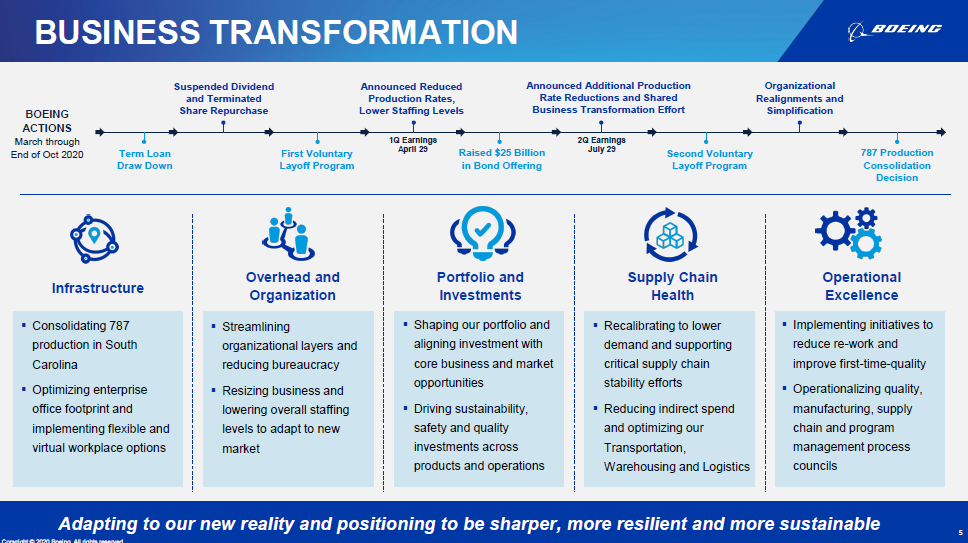 Question and Answers
On 777X: Calhoun gave a warning of sorts about EIS of 777X. Already pushed back to 2022, he said on the earnings call certification could push it back further.
Production: The reality is the industry will build less in the coming years, said Greg Smith, EVP and CFO. Boeing needs to help its supplier partners recalibrate for this new reality.
Cash flow: Smith said Boeing expects to be cash flow positive in 2022.
MAX deliveries: Calhoun said Boeing is confident planes are ready, with modifications, and the certification process has been "rehearsed" with regulators. Return to service is "conservatively planned." The production rate will be "hostage" to the RTS of the stored airplanes and the modifications required, including for white tails.
787: Most of the inventory of 50 airplanes is heavily weighted toward quality control and rework, not a lack of demand, said Smith. Deliveries will pick up in 2021.
Losing share to Airbus: "Without a doubt we've lost some share," Calhoun said. Future competitions: "We won't give up any ground," Calhoun said. He admitted the Airbus A321 has an advantage, but says 737-8 has advantage over A320. He says Boeing has advantage in widebody.
"We have some incredible underlying technologies" to use for the next new airplane. Deferral of the NMA will "advantage us" for next point design airplane.
"I believe we have a very competitive product line" and will not give up "any room" to Airbus, Calhoun said.
KC-46A: "The tanker is going to drag on us for three or four years," Calhoun said. (Another write off this quarter.)
Moving 737 line to Everett: Smith noted that facilities aren't fully utilized and didn't rule out moving some or all of 737 final assembly lines from Renton to Everett. But Calhoun said he doesn't want to move lines from one place to another "just because it's available. We're not just going to try and fill it.
"We know we have great skills in that area, but we're not just going to try and fill empty space. That would not be in our best interest," Calhoun said.