By Olivier Bonnassies
Dec. 1, 2020, (c) Airfinance Journal: Embraer is studying the cargo market with a view to launching a freighter conversion programme, sources tell Airfinance Journal.
The Brazilian manufacturer aims to develop a secondary market for converted models in parallel to E2 jet sales and is set to make a decision on a potential Embraer E-Jet freighter conversion in December.
Embraer was unavailable for comment.
The larger E195 model was involved in Azul Linhas Aereas cargo transportation flights earlier this summer after Brazil's civil aviation authority granted an exemption for the carriage of additional freight on Embraer passenger aircraft.
"The E190 conversion project is independent from Azul cargo flights," says one source with knowledge of the manufacturer's plans. "The idea behind the conversion programme is to get a long-term OEM solution for those fleets," the source adds.
The Embraer E-Jet freighter conversion will focus on the E190 and E195 models as they fill a gap between the Boeing 737-300 and ATR72 models.
The E190 model is the second-most successful aircraft in Embraer's product line after the E175. As of 30 September, Embraer had delivered 565 E190s and had a backlog of three units.
Embraer is not studying potential conversion for the smaller members of its fleet because they would lack clearance between the main deck cargo door and the engine, Airfinance Journal understands.
Potential feedstock of E170/175 aircraft is another consideration, although the Brazilian manufacturer continues to sell the E175 model and had a backlog of 153 aircraft and 261 options at the end of the third quarter.
Low feedstock for most desirable version
There is a conundrum around E195 feedstock. The model is more desirable in some markets (especially China) due to payload and requirements for engine clearance, but of all the E1 variants, it has sold the least. From a residual value perspective, a freighter conversion would be beneficial, especially if demand exceeds supply.
Airfinance Journal understands that if Embraer green-lights the freighter conversion project, the prototype could be ready to fly by the end of 2022.
Initial passenger-to-freighter conversions are often subject to delays, but customers could start receiving the converted models in 2023.
The Embraer proposal could be a good proposition in terms of volume and speed when compared with turboprop freighters. But targeting the lower end of the market will be challenging.
ATR has had a market presence in cargo conversions for almost two decades. The European manufacturer announced bulk freighter (tube version) and unit load device freighter (large cargo door version) conversion programmes at the 2002 Farnborough air show.
The ATR72 model is a 32-year-old aircraft. The oldest ATR72-500s are 23 years of age, becoming prime candidates for conversion.
The turboprop conversion market has been relatively sluggish but increasing availability over the past few years, especially for the ATR72-500, has helped values to enter the "conversion zone".
ATR believes the eight-tonne segment will become the reference point for th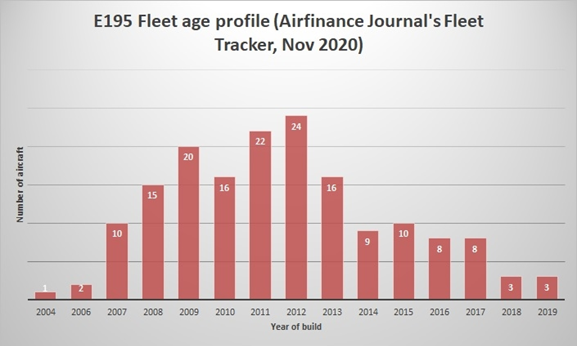 e market while three- to five-tonne capacities will significantly reduce due to a lack of feedstock.
The ATR models would probably beat the E-Jets in terms of fuel burn and maintenance costs in the 70-80-seat market segment.
However, Embraer will only face relatively small, fragmented and ageing fleets of BAe 146QTs, 737-200s, 737-300s and DC-9s as potential competitor in the 100-120-seat conversion market.
The passenger-to-freighter E190 conversion would have a maximum structural payload of approximately 11 metric tonnes.
E190 feedstock
As with any conversion programme, a launch depends on three factors: market demand, feedstock availability and asset residual values.
Availability is key to launching a programme although large numbers of candidate aircraft are not required short term.
But the second-hand market has been buoyant over the past 18 months. Embraer fleets from Air Canada, China Southern Airlines, American Airlines and Copa have found new homes.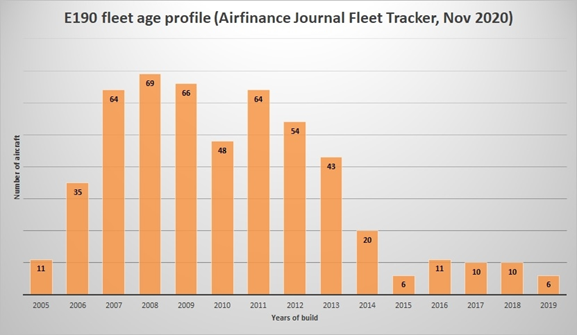 Australia is to receive more E190s as regional carriers step up their activity in the wake of a reduction of capacity by incumbent players.
Last month, Alliance Airlines received the first of 14 ex-Copa E190s from US remarketing company Azorra Aviation.
Azorra purchased Copa's 15-aircraft fleet "as-is" and is overseeing heavy checks on the aircraft before selling the units to the Australian carrier.
One E190 went to ACMI carrier German Airways (ex-WDL Aviation) earlier in 2020, for which Azorra Aviation had already committed four other aircraft.
In Australia ACMI, charter and cargo airline Pionair is also adding second-hand models. The BAe 146QT operator recently acquired one E190 previously operated by Helvetic Airways from operating lessor GOAL.
Alliance Airlines will receive a total of 14 E190s, built between 2005 and 2008, from Azorra Aviation.
The regional carrier is also looking at increasing its E190 fleet with the acquisition of ex-American Airlines aircraft.
American recently confirmed to Airfinance Journal an agreement to sell its 20 E190s inherited from US Airways to US trading company Jetran.
According to Airfinance Journal's Fleet Tracker, two units were delivered new in 2006. Nine E190s are 2007-vintage aircraft while the remaining nine were delivered in 2008.
Air Canada recently returned its 15 E190s to Nordic Aviation Capital. Those will be placed under lease agreements with start-up carrier Breeze Aviation, which also operate 12 E195s under a wetlease agreement with Azul.
New E190 customers
Embraer has welcomed new E190 customers this year.
Myanmar Airways International took delivery of the first of four E190s; three on lease from CDB Aviation and one from Truenoord. The aircraft were previously operating for China Southern Airlines and Mandarin Airlines, respectively.
The Yangon-based airline's incoming E190s are earmarked for the Myanmar domestic market and some key international routes, supplementing operations by sister carrier Air KBZ on domestic and regional routes.
The Chinese lessor has also placed more ex-China Southern units in Latin America with Amaszonas Bolivia and Amas Uruguay.
CDB Aviation has also committed four E190s to Mongolia's Hunnu Air.
In Europe, BA Cityflyer has added eight ex-China Southern Airlines E190s under lease agreements with CDB Aviation while UK regional carrier Eastern Airways recently became a new customer for the type with the addition of an ex-Air Moldova aircraft.
Embraer's newest customer is start-up carrier Ego Airways. The Italian company is about to start services from Milan's Malpensa airport and has leased an E190 from German company WDL Aviation.
Still, more E190s are coming to the market.
Moroccan flag carrier Royal Air Maroc (RAM) announced plans to return early its four E190s to lessors, while no concrete plans have been made for Jetblue Airways' fleet, which totals 60 units, and the 50-aircraft HNA fleet.
Aeromexico Connect and KLM Cityhopper will also see their first E190 leases starting to expire from next year onwards.
E190 Values
A potential cargo conversion would need values in the 'conversion zone' to make the project viable.
Sources say asset values have come down since Covid-19 started.
One trading source says values for some Embraer aircraft were in the $9m to $12m range in April this year, compared with $15m to $20m about 18 months ago.
Recent offers were as low as $5m to $6m, although the aircraft may have been in "as-is" status.
"If a half-life aircraft is priced around $8m, then a run-out model in the $4m range makes sense," the source says.
There are only thin premiums for vintage in the current E-Jet market, says another source, adding that maintenance condition is the real differentiator.
One recent transaction saw an aircraft selling at less than $4m, although the engines were run-out and the life-limited parts were down to a quarter-life remaining.
Airfinance Journal's Fleet Tracker shows that 524 aircraft were in service or stored/in transition as of 9 November.
Assuming a conversion programme sees the first redelivery in two years' time, candidates would include models that were built between 2005 and 2008. This represents about 120 potential aircraft.
The E190/E195 current average fleet age is around 10 years, but importantly, 50% of the current fleet is already 10 years old or more. And in two years' time, around 75% of the fleet will be more than 10 years of age. It remains unclear at this stage which units would be the first to be converted, however historically conversions tend to start around 12 years old and then rise to an average of 18-19 years as programmes mature.