Subscription Required
By Scott Hamilton
Introduction
March 29, 2021, © Leeham News: As airlines across the global struggle to recover from the COVID-19 pandemic, Airbus faces a weakened Boeing.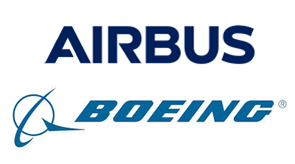 Some might argue Airbus has the advantage over Boeing, which is beset by a huge inventory of 737 MAXes and a growing number of undelivered 787s.
Others might argue that Boeing, desperate for cash, faced with billions of dollars of customer compensation claims and MAX whitetails, is willing to cut prices below levels Airbus will match.
There is anecdotal evidence Boeing is slashing MAX prices. Two high-profile campaigns in the US are illustrative. Last week, LNA examined bake-offs between Airbus and Boeing for Alaska Airlines and Southwest Airlines. United Airlines appeared to place an opportunistic order for 25 MAX 9 whitetails.
This week, LNA takes a deep dive into the competitive situation between Airbus and Boeing in the US.
Summary
Adjusting for pre-pandemic in-service fleets, Airbus trails Boeing in the US but not by much for in the narrowbody sector.
However, Boeing overwhelms Airbus in the widebody sector.
Airbus currently has a lopsided lead in backlog orders for narrowbodies, but this lead is unlikely to hold.
Airbus also currently leads in backlog orders for widebodies, but one large order is squishy.