May 24, 2021, © Leeham News: In the 42 years I've in associated with commercial aviation, I've met lots of people. I became friends with some. Others were good business acquaintances.
Michael Chowdry fell into the former category. Jeff Cole fell into the second.
Both died in an airplane accident Jan. 24, 2001. Chowdry was CEO of Atlas Air, a pioneering ACMI operator.
Cole was the aviation reporter for the Wall Street Journal. Cole went to Denver to interview Chowdry about the ACMI operation. ACMI stood for Aircraft, Crew, Maintenance and Insurance. The concept is common today. It wasn't then.
As part of the visit, Chowdry decided to give Cole a ride in a Czech-built L-39 jet trainer he owned. Almost immediately after take-off, the flight ran into trouble. Chowdry, piloting the plane, never got higher than some 400 feet. He couldn't keep the plane airborne. It crashed, killing himself and Cole instantly.
Now, 20 years later, Chowdry's widow, Linda, published a biography called No Man's Son, A Flight from Obscurity to Fame.
Few remember today
Only old fuds like me remember Chowdry.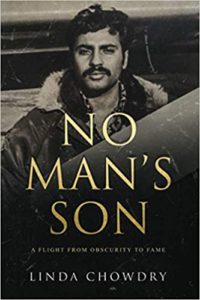 A Pakistani immigrant, he adopted the Americanized name of Michael Chowdry. He dabbled in aviation early, operated a small passenger airline and later tried to start another, without success. Instead, he founded an aircraft leasing company. After many successful years, a recession and industry downturn bankrupted many of his lessees. The ripple effect hit his company's revenues. This, coupled with the fact that he leased ancient Boeing 747-100 CRAF airplanes to dying Pan Am, led Chowdry to create the ACMI business.
CRAF stood for Civilian Reserve Air Fleet. The CRAF aircraft operated in passenger service, with Pan Am being a principal operator. The US government called them up for the 1991 Persian Gulf War. Afterward, as Pan Am died, no other airline wanted the CRAF airplanes. The extra weight for the CRAF configuration made them more costly to operate. The airplanes were ratty due to Pan Am's dying condition and the -100 model was superseded by the more efficient 747-200/300/400. Chowdry's vision in creating an ACMI business was nothing short of brilliant.
Respected reporter
I never actually met Cole. But I became a source for him when he was at the St. Paul Pioneer Press covering Northwest Airlines and I was editor of Commercial Aviation Report. CAR was able to obtain financial records of Wings Holdings, NWA's parent, at a time when Northwest was teetering on bankruptcy. Cole, and others in the Minneapolis-St. Paul area frequently called me for color and information.
After he went to the WSJ, I had less contact with him.
But my relationship with Chowdry continued. Visionary as always, Chowdry was one of the earliest people to recognize the value of something called "competitive intelligence." CI, as it is known, is a process to legally get information about competitors (as opposed to illegally obtained industrial espionage). Michael (never Mike) asked if I could recommend someone to create their CI department. I did—my senior editor, Bill DiBenedetto. Bill went to work for Atlas.
A week later, Bill called with the news that Chowdry—and Cole—were dead.
Michael's introduction of CI to me put me on a path to use competitive intelligence to augment journalism to this day.
Candid story
Linda Chowdry's biography of Michael is thorough and surprisingly candid. She starts with how she met Ejaz Akbar, or Jazi. Jazi later changed his name to Michael Chowdry. Linda carries the story through all the early days of their courtship, business opportunities, successes and failures.
Surprising was how candid Linda is about their inevitable marital challenges and Michael's sometimes estranged relationships with her children by a previous marriage.
The creation of the leasing company, which made the Chowdrys millionaires many times over, and its subsequent demise in the 1991 recession and Gulf War aftermath is covered. Making a silk purse out of a sow's ear, Michael put those tired, old Pan Am CRAF 747s to use with a new business model, ACMI, flying cargo for passenger airlines that didn't want their own cargo fleets.
Once more, Atlas made the Chowdrys multi-millionaires. Then 9/11 happened, nine months after Michael's death. Atlas filed for bankruptcy in the ensuing corporate carnage across the industry.
The accident
Linda is also surprisingly candid about the crash investigation. One expects a widow to speak perhaps fawningly of her late husband, even 20 years later. But Linda reports the unflattering pilot and record-keeping reports about Michael in addition to the story Michael was a safe and careful pilot.
Following the accident probe at the time, one of the NTSB investigators told me of Michael's poorer history. It was clear at the time the investigator was not favorably impressed by Chowdry's cockpit discipline. Linda reports some of these concerns.
In the end, the NTSB listed pilot distraction, faulty canopy latches and sealing, canopy failure and changing aerodynamics because of the failure in its probe as contributing causes to the accident.
Chowdry was an unusual personality in the industry. Cole was a superb aviation reporter. Their loss was a loss to both their professions.
The book is worth a read even for those who don't know either one of them.
No Man's Son is available via Amazon.