By Scott Hamilton
June 3, 2021, © Leeham News: Boeing and Alaska Airlines today outlined a five month ecoDemonstrator program in a series of tests designed to "green up" commercial aviation.
Boeing partnered with airlines and suppliers beginning in 2012. Alaska is the eighth airline to participate. A Boeing 737-9 will be the current platform.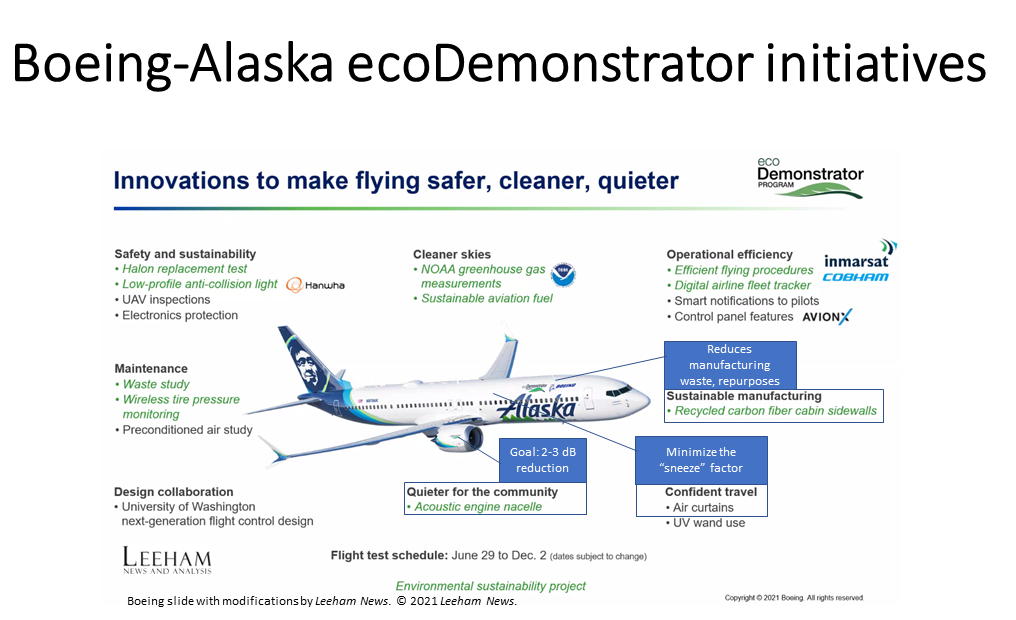 Boeing will flight test 20 technologies and ideas with Alaska beginning June 29 and ending Dec. 2.
Not all ideas fall strictly within "new technologies." Some are weight-reduction initiatives that aggregate to lower airplane weight, which in turn reduces fuel burn. This in turn reduces carbon emissions.
But other ideas directly go to environmental efforts addressing noise, emissions and now COVID infectious worries.
Current testing initiatives
Among the initiatives on the Boeing-Alaska testing are a:
Halon-free fire extinguishing agent aimed at "significantly reducing effects on the ozone layer." Studies will be in ground testing.
New acoustical material for the engine nacelle, with a goal of reducing noise by 2-3 dB.
Recycled carbon composite waste is used to create passenger cabin sidewalls. Carbon composite waste is especially toxic to the environment.
New "air curtain" is positioned in the overhead service panel. Intended to direct air downward, the goal is to prevent germs from coughing or sneezing to migrate from one passenger seating row to the next.
More efficient flying procedures are intended to reduce flying time, reducing fuel usage and with it emissions. Research continues with the long-running Sustainable Air Fuel program. Today, regulations cap the use of SAF at a 50% blend with jet fuel. Boeing wants to have its entire product line of airliners 100% SAF-capable by 2030.
Since Boeing began its ecoDemonstrator effort nearly 10 years ago, the company tested 175 technologies. About half have been adopted or continue in research. The other half are no longer under study.