July 19, 2021, © Leeham News: There are two re-fleeting campaigns coming up that are significant and in which Airbus and Boeing each have the incumbent advantage.
The successor to Alitalia, Italia Trasporti Aereo (ITA), will restructure with a single aircraft provider. Airfinance Journal reported last week that ITA will begin operations with 52 aircraft: 45 single-aisle airplanes and seven twin-aisle aircraft, drawn from the Alitalia fleet. Another 26 aircraft will be added in 2022.
Airbus is the dominant incumbent aircraft provider. There are 12 Boeing 777 Classics that were with Alitalia.
This competition should be Airbus's to lose.
KLM-Air France
KLM-Air France will run a competition for the KLM side of the group, including its Transavia European carrier. KLM and Transavia are Boeing 737 operators. The contestants will be the MAX against the A321neo. This should be Boeing's to lose. (Air France favors Airbus for its single-aisle fleet.) KLM had more than 50 737s in its fleet last month. Transavia had 50 in its fleet at the end of last year. But the talks with Airbus and Boeing are for 160 jets, most likely reflecting the pre-pandemic replacement requirements.
Delta Air Lines is known to be interested in more single-aisle airplanes. Qatar Airways wants either Airbus A350 or Boeing 777-8 freighters, or both, if the two companies launch these programs. American and United still have room to place more orders. British Airways announced a memorandum of understanding at the Paris Air Show in 2019 for 200 737 MAXes, just months after the grounding. It has yet to be firmed up.
LNA will look at some of the re-fleeting requirements of the world's airlines in a future post.
Aircraft retirements "grossly" understated
Credit Suisse analyst Rob Spingarn concludes that aircraft retirements are understated.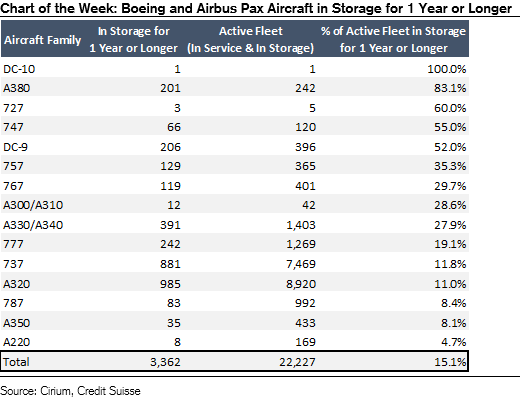 In a note published last week, Spingarn wrote:
We take a look at Boeing and Airbus passenger aircraft that have been in storage for at least a year. Per Cirium, 15.1% of the active narrow-body and wide-body passenger fleet has been in storage for at least one year.
In our view, this further supports our thesis that official aircraft retirement numbers are grossly underreported and that many aircraft currently classified as in storage are effectively retired and will not return to active service – although some may be converted to freighters or taken up by new ULCCs/LCCs.
When we hosted Dr. Kevin Michaels for a call on the commercial aftermarket, he was of the view that retirements are underreported because airlines are sitting on assets in anticipation of improved demand/pricing in the near future before making the official decision to sell a stored aircraft into the part-out market. Consequently, he expects aircraft part-outs to rise to 600/year by 2024/2025. This compares to the 350-400 part-outs his firm tracked in the peak year of 2012.