By the Leeham News Team
Nov. 2, 2021, © Leeham News: Although US domestic passenger traffic seems to be booming, globally air trave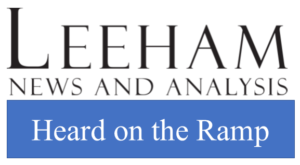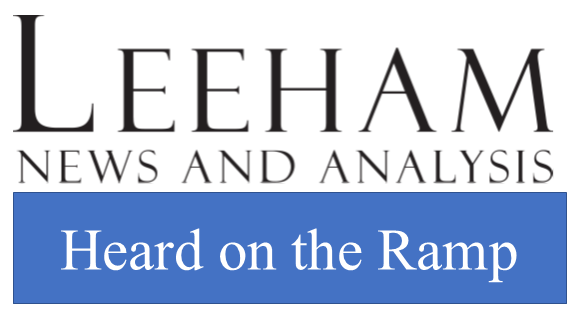 l remains well below 2019 levels preceding the 2020 COVID-19 pandemic.
Boeing sees domestic travel recovering in 2022. But international, widebody traffic won't recover until the end of 2024, Boeing predicts.
In an appearance last week before the Aerospace Futures Alliance in Seattle, Janene Collins, VP of Contracts & Sourcing Supply Chain, also said Boeing expects a supply chain squeeze is likely to impact plans to increase airplane production rates.
Vaccinations, improving economies drive recovery
Collins said vaccinations and improving economies are accelerating air travel recovery. As vaccinations become more widespread and economies recover, pent-up demand is spurring traffic. However, international border restrictions and proof of vaccinations continue to inhibit travel recovery, however.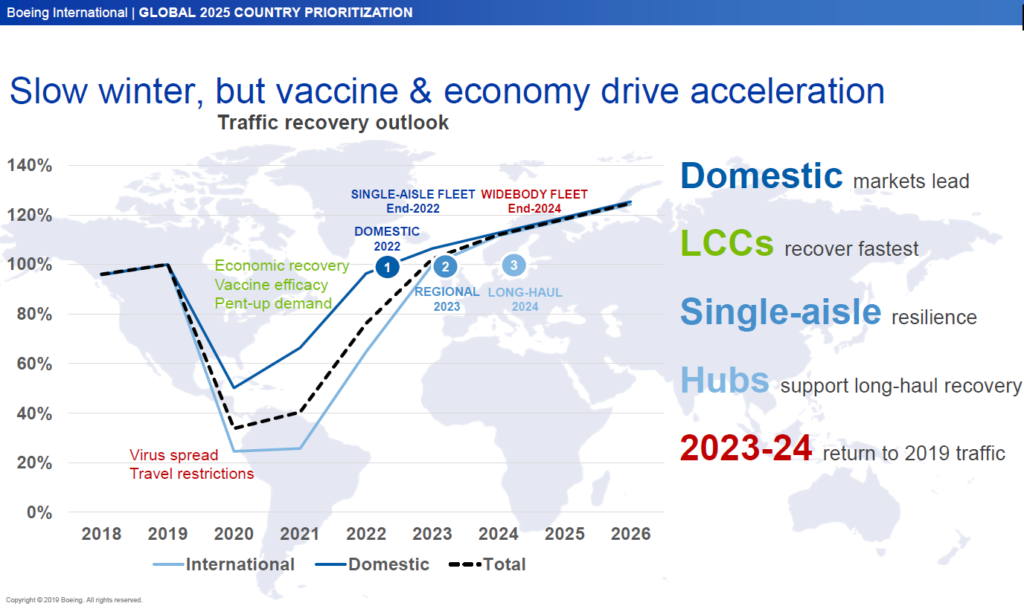 Supply chain squeeze
Collins also told the AFA conference that competition for raw materials and labor, especially in the US, is a rising concern. Shipping at US ports is backing up, with hundreds of cargo vessels anchored awaiting labor and truck drivers to unload and ship their freight.
On Boeing's 3Q2021 earnings call the next day, CEO David Calhoun said, "We're actively working to ensure the production system, including the supply chain, is stable prior to making decisions to further increase
the production rate. Raw materials, logistics and labor availability will also be key watch items for future rate increases.
"With economic activity picking up, labor availability within our supply chain will be the critical watch item," Calhoun said.
Snippets from the Boeing earnings call
Other quick facts from the earnings call:
About one-third (122) of the current 737 MAX inventory of 370 airplanes is destined for China.
"We have to get better at delivering [737s] out of the completion center our inventoried airplanes," Calhoun said. (Delivery of MAXes from inventory is taking about twice as long as previously expected, a knowledgeable source tells )
Boeing will increase the production capacity of the 777F, which currently is about 1.5/mo, due to the demand for freighters. Boeing did not specify the new rate.
Boeing faces cancellations for 787s
Boeing has about 110 787s in inventory, representing the suspension of deliveries since October 2020. LNA understands that one major customer sees as many as half of these aircraft as subject to cancellation before deliveries resume.  No date has been set for resumption. But, based on information LNA has obtained as affected airlines look for substitute lift, it may be well into the first quarter of 2022 before Boeing begins clearing this inventory.
Boeing, and airlines, are shopping for available 777-300ERs to provide substitute lift for the grounded 787s. Some airlines seek long-term leases, suggesting cancellations are possible. As the delivery delays pass 9-12 months, customers are able to cancel the aircraft–even if built.