By Bjorn Fehrm
January 10, 2023, © Leeham News: Airbus and Boeing released their 2022 delivery and order data today. With a delivery of 661 airliners, Airbus is a 38% larger supplier than Boeing at 480 aircraft.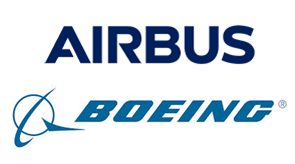 Airbus had a target of 700 deliveries but came short due to supplier constraints in a year of COVID recovery, raising energy prices due to the war in Ukraine and labor shortages. Boeing is not out of a tunnel caused by 737 Max crashes and 787 quality problems.
On the order side, Airbus booked 820 net orders versus Boeing's 774. The Airbus backlog is 33% larger at 7,239 aircraft versus Boeing's 5,430 jets.
Airbus' 2022
Airbus hosted a question and answer with CEO Guillame Faury and Chief Commercial Officer Christian Scherer after the publication of the data. It also publicized an infographic that puts the 2022 figures in perspective, Figure 1.
The orders were 62% higher than in 2021, and Scherer said that single aisle orders are now delivery slot limited with the first free slot in 2029.
Widebody orders have picked up, which is less visible as the year includes large widebody cancellations from AirAsia (a reset of its inflated A330-900 order) and A350-1000 cancellations from Qatar Airways, as seen in Figure 2.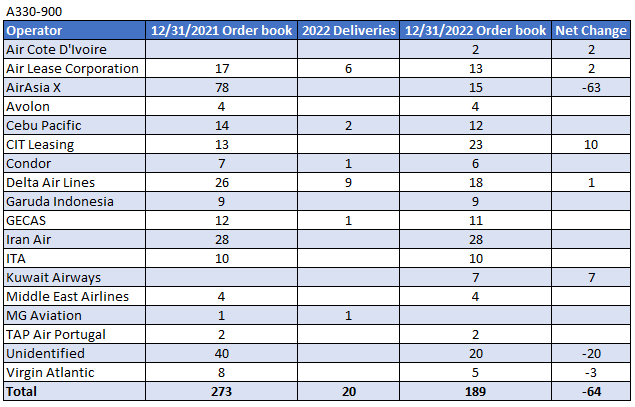 The modest Airbus delivery increase of 8% from 611 in 2021 to 661 aircraft for 2022 was partly due to the more complex A321 now out-delivering the A320 for the first time (264 versus 246), but also because the A220 doesn't increase more than three units (53 versus 50). The supply chain is the limiting factor for these product lines, as Airbus had hoped to deliver more aircraft.
The 661 deliveries shall be compared with 863 before COVID. Airbus high single-aisle sales put pressure on deliveries, and Faury said the delivery rate increase is still 65 per month by 2024, up from last year's 43 per month. By "the mid-decade," Airbus wants to be at 75 A321/A320 per month.
The A330 line has seen a 78% increase in deliveries at 2.7 per month instead of 1.5 per month in 2021. According to Scherer, the sales are healthy, masked by AirAsia resetting its old order for 78 A330-900 to 15.
A350 was produced at rate five during 2022 with 60 deliveries compared with 55 during 2021. The 60 includes a reduction of two Aeroflot machines that were recorded as delivered 2021, but where the actual fly-out to Russia could not be done due to sanctions.
Boeing's 2022
Boeing has net orders of 774 jets and delivered 480 commercial aircraft during 2022, an increase in sales of 62% from 479 orders in 2021 and an increase in deliveries of 41% compared with 340 in 2021.
The different programs ran as follows:
737 had 561 orders versus 749 in 2021 and deliveries of 387 versus 263 the year before.
767 had 31 orders versus 38 in 2021. Boeing delivered 33 767s versus 32 during 2022
For 777, the numbers were 68 (53) and an even 24 deliveries for both years
The 787 had 114 orders in 2022 versus 21 2021. Deliveries reached 31 versus 14 for 2021
Finally, 747 had no order in 2022 versus five 2021 and five deliveries versus seven.
The numbers show how Boeing is still suffering from its MAX debacle, where the delivery rate during 2022 only reached 32 per month for the 737 despite a large stock of produced aircraft.
The 787 manufacturing problems are halfway resolved, with a doubling of deliveries to 31 in 2022, despite a late restart of deliveries in 3Q2022.