By Bryan Corliss 
Jan. 31, 2022, (c) Leeham News — Standing in the chilly hangar where 1,574 747s were built, Boeing CEO Dave Calhoun committed the company to continued innovation in commercial aircraft.
"Our commitment as a leadership team at Boeing is to maintain this leadership culture forever," he said.  "We're committed to it and we will be forever."
Boeing "continues to have visions just like this one," the CEO said, gesturing to the last 747. "The hangars are full of innovation."
Calhoun also thanked everyone who's been involved with the 747 program in recent years.
"If a company ever needed to stand tall on a legacy it was the Boeing Co.," he acknowledged. "For the past three or four years it has been tumultuous." 
'Even when you understand the science…there's also magic'
Calhoun spoke at a delivery ceremony for the final 747, a freighter going to Atlas Air. The plane will leave Everett's Paine Field Wednesday.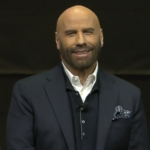 The ceremony attracted several thousand current and retired Boeing workers, customers, suppliers and even a celebrity: actor John Travolta, who is certified as a pilot on 747-400s.
"I had to be here in person. As a pilot, I know how great this airplane is to fly," Travolta said. "Even when you understand the science of flight, there's nothing like seeing a 747 take flight to understand there's also magic here." 
For 90 minutes, speakers ranging from retired Boeing CEO Phil Condit to Atlas Air CEO John Dietrich talked about what the 747 had meant to Boeing, the aviation industry and to themselves personally. Several current and retired Boeing executives said that their first commercial aircraft flight had been on a 747.
Condit: Founders had 'amazing' vision
Condit was a young engineer working on the 747 program at Boeing's Plant 2 near Seattle. He recalled driving up to the Everett factory, which was still under construction, for the first time. Like many people since then, the immense scale of the building plays tricks on one's sense of proportion. (Boeing claims the Everett factory building is the largest in the world, by volume, and says that its footprint is bigger than Disneyland, with room for parking.)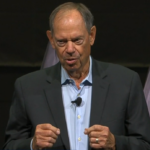 Entering the hangar for the first time, he said, "I was amazed that the airplane wasn't very big. Then we started walking toward it. We walked and we walked and we walked and we walked and the airplane kept getting bigger and bigger."
Boeing cleared 789 acres of forest alongside Paine Field to make room for the factory, and moved 4 million cubic yards of dirt to level the site. 
Condit recounted how legendary Pan American Airlines CEO Juan Tripp and Boeing CEO Bill Allen came to terms on the 747's launch order: "Juan Trip said to Bill Allen, 'If you build it, I'll buy it.' And Bill Allen said 'If you buy it, I'll build it.'"
That "handshake by giants" started an airplane program that literally changed the world, Condit said.
"It is amazing to me," he said, "to think about the vision that Juan Trippe and Bill Allen had to create an airplane that has lasted more than half a century."
Tripp's grandson, Charles Trippe, was recognized during the ceremony, carrying in a Pan Am flag and leading a parade that honored all the airlines that have operated 747s over the past 53 years.
Queen of Skies is 'so damned good-looking'
The 747 played a huge role in the development of many airlines, speakers at the ceremony said. Japan Airlines, for example, became a global carrier because the 747's range allowed it to fly previously impossible routes, noted retired Boeing senior vice president Carolyn Corvi.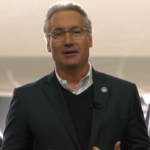 In Europe, when Lufthansa took delivery of its first 747s and became the continent's first operator of the jet, it signified that Lufthansa had become "a grown-up airline" rising from the tumult of World War II, CEO Carsten Spohr said.
Lufthansa "fell in love with the Boeing design very easily," he said.
"I love the airplane. Our crews love the airplane. Even our controllers love the airplane," Spohr continued. "The 747 has a very special place, not just in my heart but in the heart of everyone with Lufthansa." 
Plane-spotters especially love the 747-8, he joked, "because it is so damned good-looking."
Lufthansa now operates eight 747-400s and 19 747-8I passenger jets. The airline plans to upgrade them so it can "fly this amazing airplane well into the next decade," Spohr said.
Customers laud 747: 'No greater freighter'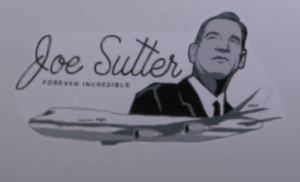 Even today, 53 years after its launch, the 747 is the "biggest, baddest commercial aircraft flying out there," Atlas Air CEO CEO John Dietrich said. He said his company has flown everything from "race cars to race horses" on 747s, as well as American weapons for Ukraine.
UPS has flown live 40-foot whale sharks on its 747s, and it has delivered more than a billion doses of Covid-19 vaccine carried by 747s, said Bill Moore, the delivery company's vice president of aircraft maintenance and engineering. 
"There is no greater freighter," Deitrich said.
Others praised the vision and skill of legendary Boeing design engineer, the late Joe Sutter, who was the father of the 747. Atlas Air unveiled the "Joe Sutter: Forever Incredible" sticker it has placed on its final 747, and UPS announced that it will place a Joe Sutter commemorative sticker on all the 747s in its fleet.
Calhoun: 'Think about the future'
Yet the cargo executives and several others echoed Calhoun in talking about the future. Both air cargo executives said they expect to be flying 747 freights for decades to come.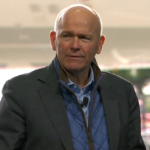 Calhoun singled out Boeing's 777 as the jet that is muscling the 747 out of the sky: capable of flying missions flown by the original 747s, but with two engines, instead of four.
"We haven't even introduced the best version of it yet," the CEO said.
"We have airplanes that will displace the 747 in the sky and compete with it for 50 more years," Calhoun continued. "Think about the future … because of you and the incredible legacy you built, we're gonna be doing these product legacy stories forever."
Boeing Commercial Airplanes CEO Stan Deal got the last word: "We do not close this book," he said. "It's just a chapter"