April 4, 2023, © Leeham News: A new study by the US Government Accountability Office (GAO) makes clear how the US airline industry effort has been anemic in reducing emissions over the last 20 years.
In fact, despite all the rhetoric and genuine efforts in certain elements of commercial aviation, it might be fair to say that the airline industry's effort overall has been pathetic.
Despite all the fanfare in 2021 when the International Air Transport Association (IATA) adopted a resolution with goals to decarbonize, that resolution was little more than regurgitating previous, similar goals. The same goes for the goals adopted by the International Civil Aviation Organization (ICAO) shortly after IATA.
I'll explain below. Suffice it to say that when Tim Clark, the president of Emirates Airline, told the 2021 IATA conference, "Don't make promises you can't keep," he wasn't whistling past the graveyard.
The GAO report, Sustainable Aviation Fuel, is an unintentional indictment of just how pathetic commercial aviation has been in setting and failing to meet goal after goal, after goal.
Despite tripling the production in 2022 of Sustainable Aviation Fuel (SAF) compared with 2021, use by US airlines barely moved the needle. Even though airline use also tripled, SAF still represented marginally less than 0.1% of aviation fuel.
A goal set in 2007 called for 10% of fuel used would be SAF by 2017.
Statistics
Figure 1 illustrates how much SAF has been used by US airlines since 2016 compared with jet fuel. The SAF data is so small that it barely registers on the chart. So I extracted the SAF usage as a percentage used vs jet fuel in Figure 2. It's a very small number.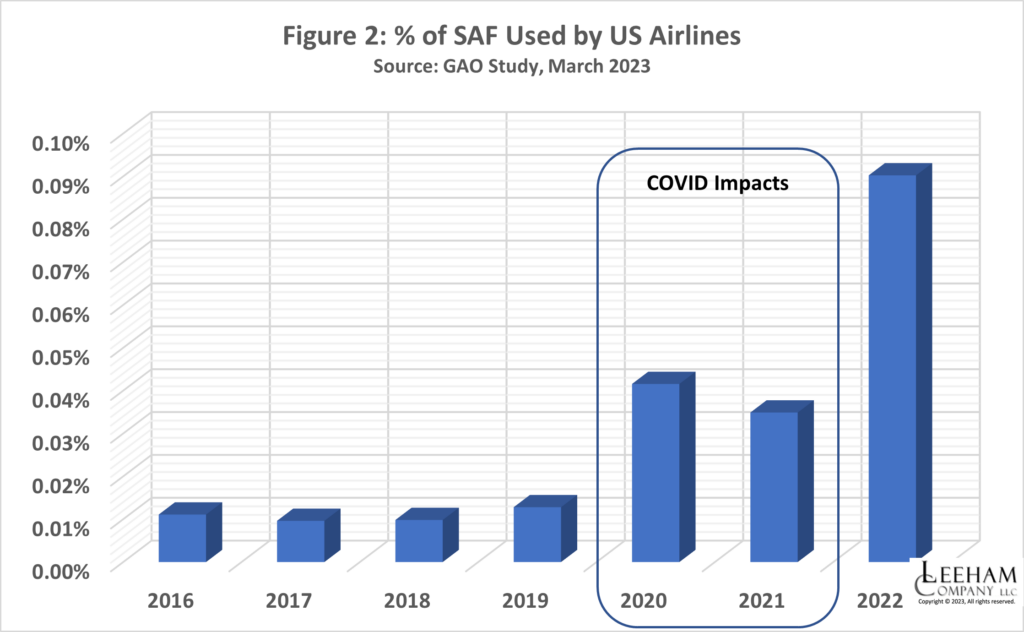 In Figure 3, the chart illustrates how much SAF has been produced in gallons.
To be sure, as small as this is, the data shows progress. What is anemic, or pathetic, is that the goals set years ago—and repeatedly over the years—make a mockery of the eco-aviation movement.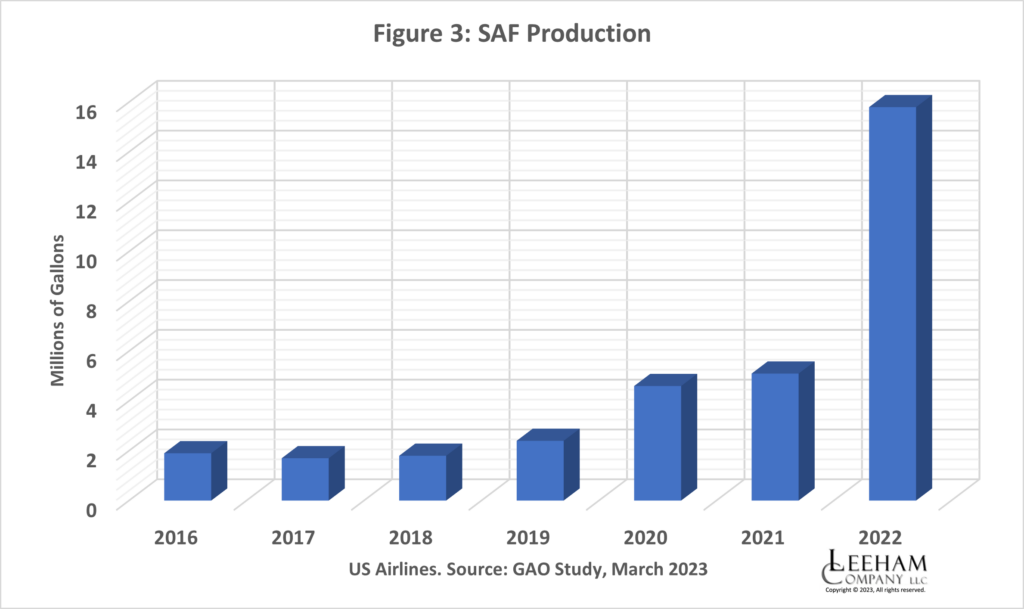 At long last
Finally, at long last, the industry appears to be taking aggressive moves to do something about its emissions. This is not to take away from all the work Airbus, Boeing, Embraer, and the engine makers have done on the emissions front. But let's be real: the driving motivation was probably more about meeting airline demands for lowering operating costs than it was about creating blue skies. The environmental benefits of lowering fuel and operating costs were ancillary.
Let's not be fooled, though. Most of the "alternative" energy concepts won't make it to a successful commercial business model. Some of the "orders" for eVTOLS or similar aerial vehicles seem little more than greenwashing. But progress is progress, and finally, the airline and aviation industries seem to be moving in the right direction.