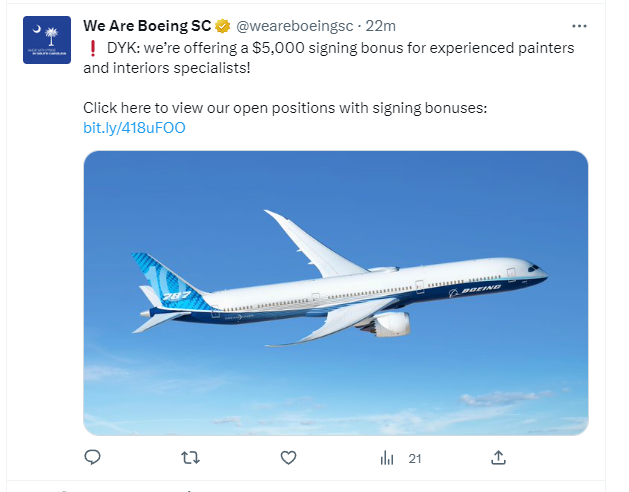 Subscription Required

By Bryan Corliss

April 17, 2023, © Leeham News: The Boeing Co., which has talked of making significant production rate increases "very soon," is offering bonuses of up to $10,000 as it recruits workers in touch-labor positions in both South Carolina and Puget Sound.
In Charleston, Boeing is offering $5,000 signing bonuses specifically for experienced painters and interiors installers as it tries to first stabilize, then increase, production of 787s. Boeing wants to reach a rate of 5/mo by the end of this year and 10/mo by 2025/26.
In Puget Sound, the company isn't offering signing bonuses, but it is offering hefty payouts of up to $10,000 to current employees who refer experienced aerospace workers to openings in a number of job categories, including structures mechanics and general machinists.
The moves come as analysts continue to sound alarms about workforce shortages across the industry. 
"We continue to remain cautious on the supply chain's ability to support the planned production rate increases in 2H23 and into 2024," wrote Ken Herbert, with RBC Capital Markets, in a report earlier this week. "We continue to see labor availability and training as the largest headwind facing the sector."
Boeing hiring as it prepares to ramp up
Boeing offers hiring incentives
Northwest aerospace labor market is tight
S. Carolina: Lockheed-Martin offers $10K