By William Loh, International Aviation Advisors and
Dr. David Yu, CFA, Senior ISTAT Appraiser, AAVA Group, NYU Shanghai and Stern
Special to Leeham News
Oct. 3, 2023, © Leeham News: Investing in aircraft has become increasingly popular over many decades now, and for good reason.  The returns can be most attractive and well-chosen assets tend to hold their value well over the medium term.  Some of them have the option to extend the useful life out to 40 years or more in a freighter conversion.
As with most investments though, owning aircraft involves risk and requires subject matter expertise to avoid surprises and pitfalls.  Some of this will involve aircraft selection, understanding industry dynamics, and incorporating these into the modeling of future values/lease rates and equity returns, which have been a focus of ours for several years.
Rather than the traditional method of producing bi-annual static forecasts of future values, our approach has been to develop a simulation model of possible future outcomes.  This results in a market-driven probability distribution of the future asset value, rather than a single point forecast (rarely achieved in practice).  Most traditional forecasts are discrete points including the classic high/low/base versions. Our forecasts are updated whenever it is appropriate based on market changes.
Future value forecasting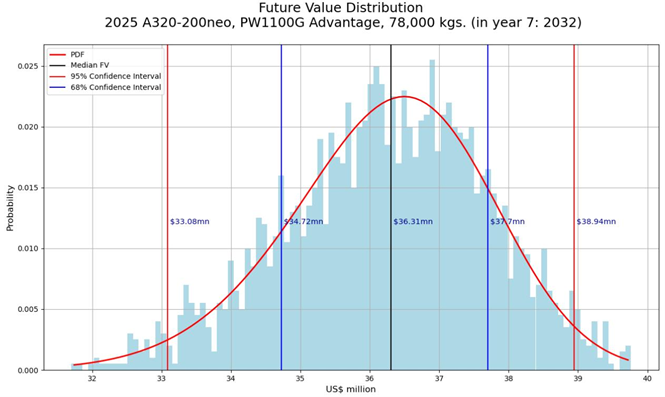 Even before Avolon's "Values and Valuers" White Paper of 2016, it had become clear to us that there was a need for a robust analytical methodology.  We have also found that there is often a requirement for an investment return and pricing model that can assist existing and potential new investors in estimating the critical assumptions in their analysis of existing portfolios, and for evaluating new purchases. These techniques have been widely incorporated in other financial asset classes and industries.
Given the unprecedented disruption to the aviation sector following the effects of the pandemic and lock-downs (and the current engine/airframe troubles), many of those who have invested in aircraft over the last decade are faced with new uncertainty in terms of lease rates, values and even future market demand for aircraft.  This may indicate the need for a review of their internal models.  No one has a crystal ball that provides absolute clarity, but investors will want to model a variety of scenarios, especially for twin-aisle/widebody aircraft which historically have had higher volatility.
All investors have an interest in properly analyzing the impact that future uncertainty may have on their returns, the timing of selling existing aircraft exposure, or the price at which it will make sense for new investors to buy or build an aircraft portfolio.
Market simulations and cash flow analysis
Models such as ours combine the market simulation approach to future aircraft valuations with a powerful analysis of future cash-flows to provide decision-makers with a pricing and return model under different scenarios.  Many parameters must be adjusted based on the end user's needs, and then input into the Lessor Trading Model which helps investors understand the potential returns available, as well as things which are best avoided.  Our Lender Repo Model allows lenders to understand the benefits available to them by choosing to lease an aircraft instead of pursuing a possibly distressed sale.
Leasing's two largest expenses are depreciation and finance costs.  There are many parameters to be analyzed, such as the various debt and equity market conditions, debt/equity split, asset depreciation policy, and lease rate factors, among others.
This is part of an example return output for an A320-200neo from the Lessor Trading Model, with book value sales included: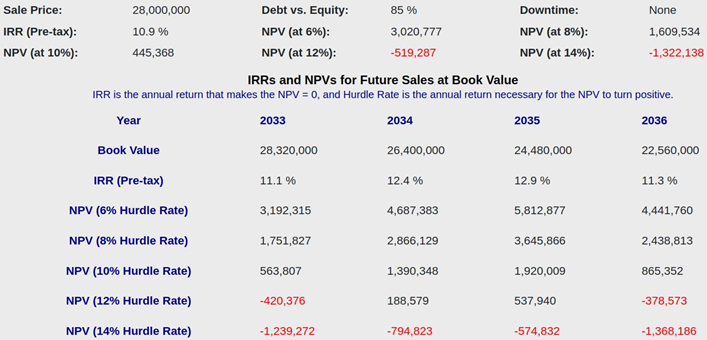 Based on this kind of analysis, investors can be more confident in their decisions, and that they've made the necessary investment in time and effort to get their numbers right.
We'll go into more detail about the models in our next Risk Adjusted Business article.