In a new research note issued today, Wells Fargo estimates that Southwest Airlines paid a based price of $34.7m each for the Boeing 737-8 MAX.
The investment bank published the following table, followed by the text: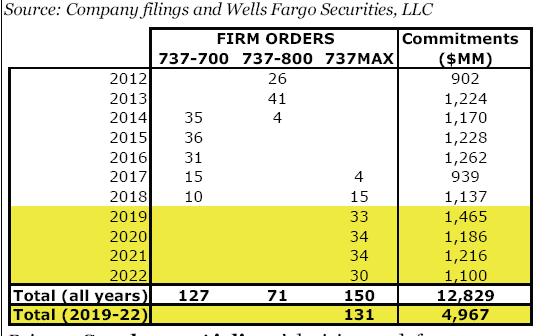 Prior to Southwest Airlines' decision to defer 30 Boeing 737-800 deliveries from 2012-13 to 2017-18, it
published the data above in its latest 10-Q. We estimate that (after factoring in PDPs) SWA is paying ~$5.67B for the 131 MAXs in 2019-2022, or $43.3M each; assuming an average of nine years of price escalation at 2.5%/year, the base price would be $34.7M – a 64% discount off the 737MAX-8 list price. We do not view this as an indication of a "price war" between Boeing and Airbus, as SWA is a priority 737 operator that was certain to receive the most favorable MAX launch-customer pricing.
This is a somewhat deeper discount than we thought: 60%. If true, we can say that discounts of 60% for top customers are not unknown, even if they are not common. We understand Boeing is currently offering the MAX at discounts in excess of 50% but we can't nail it down any closer than this.
Airbus likewise is known to offer discounts of up to 60% on the A320 family.
So what about the "price war?" Our information is that this extends to the 737NG and the A320ceo. Airbus and Boeing have each connected sales of the current generation of airplanes to the re-engined models in part to sustain current and announced production rates and to prevent a drop in cash in the run-up to EIS of the new airplanes. This means dropping the price on the current generation to help. (Separately, this also means drops in lease rates and residual values.)
Then there is the competition for only current generation aircraft, such as last year's Delta Air Lines order for 100 -900ERs over the A321. He heard straight away that this came down to a price war and Boeing won. After the Airbus win at American Airlines, there was no way Boeing was going to lose Delta, and we heard at the time Boeing under-priced Airbus by about 10%. (Recall, too, that Boeing under-priced EADS by 10% in the tanker competition.)
We are hearing United Airlines also came down to price. We expect this Boeing win to be announced before at at Farnborough.
Bernstein Research, in a note also issued today about the EADS first quarter earnings call, had this to say about a price war:
A320 pricing should be a near term strength, but long term risk. A320 pricing was described as
"above expectations" with no declines seen in 2011 orders, and premiums captured for the A320neo. In
contrast, Boeing has said that it sees Airbus pricing aggressively, with the result that narrowbody prices are being taken down for both the A320 and 737. We believe the answer lies somewhere in the middle with certain customers (e.g. American, Norwegian Air Shuttle) driving aggressive price competitions, but with reasonably solid A320 pricing elsewhere. Based on our customer discussions, however, we do not believe that either Airbus or Boeing is capturing significant premiums for their reengined models (only relative to lower prices for their current generation airplanes).