We just finished a book about China National Aviation Corp. (CNAC). It's a long book, 498 pages. it's meticulously footnoted. The Bibliography is 100 of the 498 pages. We found the book a bit tedious for all the detail, but
others will find the vast, detailed history of CNAC and the politics of dealing with the pre-World War II Chinese government fascinating.
The book details the famed "Douglas 2 1/2," the war-damaged DC-3 with the right wing replaced by one belonging to a DC-2. The airplane flew, as did another with a mis-matched, smaller engine and smaller propeller.
There are several instances of the DC-3 being flow overweight, one in which the airplane carried more than 70 passengers vs the then-standard 21. The airplane couldn't get off the runway. But the runway was built ending against a sloped berm, and the DC-3 became airborne ski-jump style.
CNAC was run by an American, William Langhorne Bond, whose son Langhorne became US Transportation Secretary under President Carter (and who was responsible for grounding the McDonnell Douglas DC-10 after the crash of American Airlines flight 191 in Chicago-a crash we covered as a reporter).
The senior Bond was one of those rare individuals who successfully went up against the legendary Juan Trippe, whose Pan Am owned a minority stake in CNAC, and persuaded him to stick with CNAC when Trippe was ready to abandon the airline during the Sino-Japanese war preceding Pearl Harbor.
Bond's disappointment of losing CNAC to the Communists after World War II after all he'd been through to keep the airline alive is palatable.
The book is easily available through Amazon.com.
Boeing B-17: Here is 3 minute video about the iconic bomber, including footage inside the airplane.
Airbus Market Forecast: Airbus forecasts 28,000 aircraft over the next 20 years. It's new GMF is here.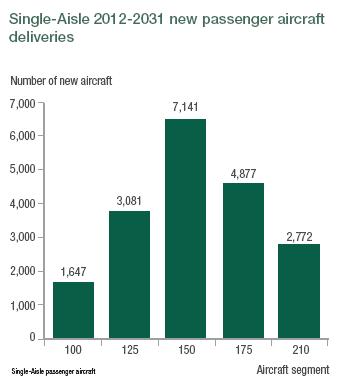 The 100-210 seat single aisle forecast is to the left. Click on the graphic to enlarge it for more crisp viewing.
The controversial 100-149 seat segment has been reduced in Airbus' forecast from 5,115 to 4,708, an 8% reduction. The total market remains very close to last year's forecast, at 19,498. Boeing forecasts more than 23,000 for this entire segment, a sharp difference between the two companies.
Airbus forecasts a need for 1,330 Very Large Aircraft (plus another 400 freighters). This is slightly more than last year and compares with Boeing's forecast of 740 VLAs.