Lufthansa Airlines announced an order for the Boeing 777-9X, but the program hasn't officially been launched yet.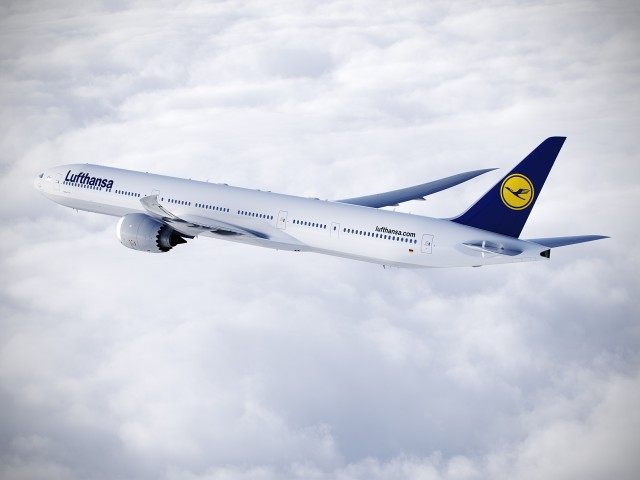 Source: Airline Reporter
The Boeing Co. Board of Directors is expected to do so in October. Boeing doesn't reveal the date of its board meetings, but they are typically toward the end of the month. Formal launch of the program is widely anticipated to come at the Dubai Air Show Nov. 17-21, along with major orders from Emirates Airlines and others. Emirates' order is expected to be for both the 406-seat 9X and the ultra-long range, 350-passenger 777-8X, the latter providing Emirates with the long-sought ability to provide full payload, non-stop service between Dubai and Los Angeles.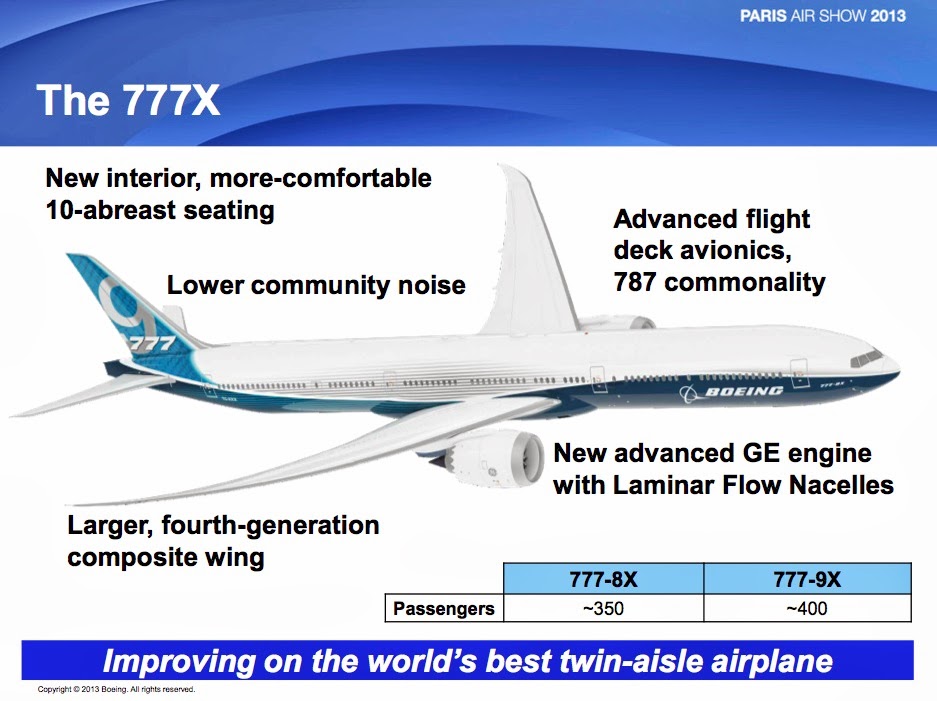 Source: Boeing
While launch of the 777X is a foregone conclusion, where it will be assembled isn't. This is of keen interest to Washington State, where the current 777 family is assembled, and South Carolina, which is becoming a growing Boeing assembly site.
Boeing has purchased hundreds of acres of land in Charleston in multiple increments and now owns slight more land there than in Everett.
We believe Everett is the only logical place to assemble this derivative of an existing program, and there are many who think so, too. But there is a smaller group that thinks Boeing Chicago favors Charleston.
Here are the pros and cons of each:
Everett
Pro
The current 777 is assembled here.
The 777 assembly line is highly efficient, and has progressively become more "lean."
The workforce is highly proficient.
The workforce experience provides a basis for creativity and cost-cutting ideas.
Boeing doesn't have to invest is new buildings and related infrastructure.
There is room within the current building.
Boeing's new, robotic paint shop is already large enough to accommodate the huge 777X wing.
There is room at Paine Field for a 777X wing production site. Proximity of a new site to the factory would be a plus.
A motivated Washington State and Snohomish County (where Everett is located) may provide incentives to win the assembly site.
Supply chain in close proximity.
Con
Puget Sound and Washington State are higher cost than South Carolina.
From Boeing Chicago's perspective, the fact that the Everett workforce is unionized is a negative.
Charleston
Pro
Cheaper business climate than Washington.
Non-union.
State and local officials are more cooperative than in Washington.
Con
Workforce still on learning curve for 787, would face steep learning curve for new equipment type at Charleston.
Major infrastructure development required.
Duplicative tooling required.
777 supply chain remote.
There are more pros and cons that may be assigned to either site, of course. We believe, based on our sourcing, that Boeing Commercial Airplanes–headquarter in the Seattle area–favors Everett. The wild card is the disposition of Jim McNerney, CEO of The Boeing Co., who made the decision to put 787 Line 2 in Charleston despite a business case that favored Everett. The long-running disputes between management and IAM 751, the local of the International Association of Machinists that represents Boeing's "touch" labor in Washington, was at such a low that McNerney selected Charleston over Everett.
Relations are better now, with a contract in place until late 2016 that provides production stability. But Boeing has systematically been moving union jobs out of Washington since it reached an agreement early this year with SPEEA, the engineers union. Jobs covered by SPEEA have been cut and work covered by the jobs cuts have been moved elsewhere. Chicago is clearly continuing its effort to shift jobs to non-union states and workforces.
Will the desire to move out of unionized Washington be the deciding factor?
For a derivative aircraft, we don't think it makes sense. A clean-sheet, new design aircraft is a different matter.
Officially a decision on where the assembly site will be located isn't said to be made until the first or second quarter. We hear the decision already has been made, but we can't satisfy ourselves as to what the decision is. We think Everett will be the winner. But Jim McNerney's antipathy toward unions is the wild card.