Today is Wednesday, Nov. 13, and it is the big day for Boeing, IAM, Washington State and rival states wanting to build the Boeing 777X.
IAM 751, the local union that provides the "touch labor" to assemble all the 7 Series commercial jetliners except those assigned to Boeing's South Carolina plant, has a hard choice: accept deep givebacks in its pension plan, health care benefits and wages in exchange for the 777X work, or roll the dice, reject the Boeing contract proposal and challenge Boeing's statement that it will put the 777X assembly out to bid.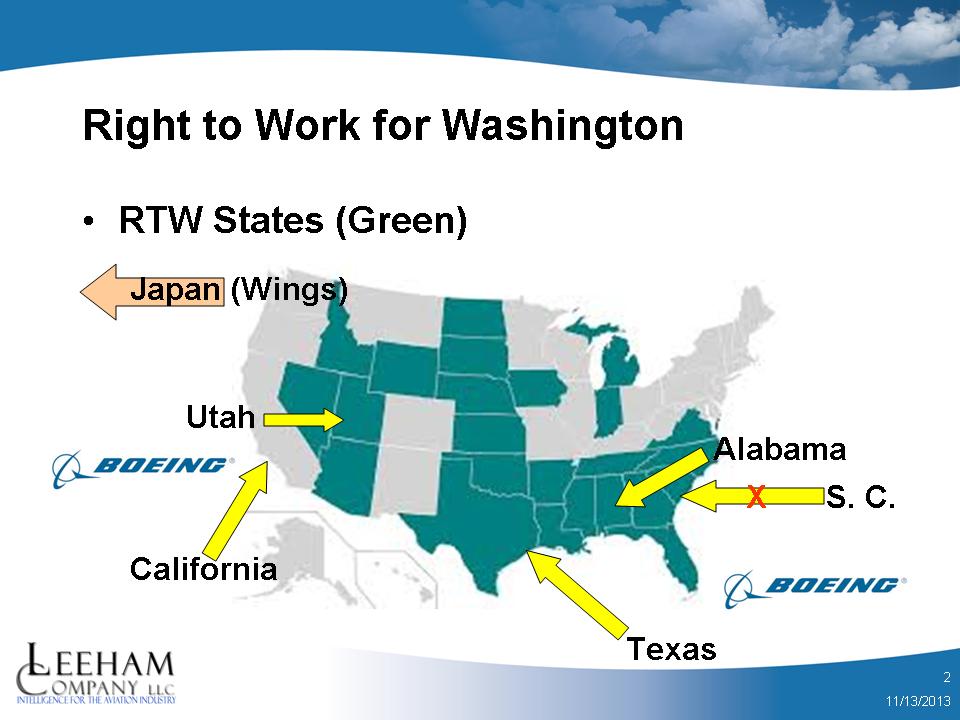 Rival states are salivating. The Seattle Times reports that internally, Boeing's facilities in Long Beach (CA), Huntsville (AL) and Salt Lake City (UT) are the top possibilities outside Washington. Interestingly, Charleston (SC) is not on The Times lists because the Boeing plant there still doesn't have the 787 assembly under control yet. It had been widely assumed Charleston would be the first choice outside Washington.
Neither is Boeing's San Antonio (TX) facility on The Times list.
Political officials in South Carolina and Texas have already expressed interest in bidding on the 777X. We're told Utah has already submitted a proposal, but this is unconfirmed.
Long Beach is a major Boeing facility that was part of McDonnell Douglas prior to the merger of the two companies. All DC and MD commercial jets were built there, and the last remaining vestige of McDonnell Douglas, the C-17 military cargo transport, is slated to end production in 2015. But California is a heavily unionized state and the business climate there is widely considered poor. The other states are right-to-work states.
Texas Gov. Rick Perry reportedly Tweeted he hopes the IAM rejects Boeing's contract offer and invited Boeing to Texas.
The IAM votes until 6pm. IAM 751 officials have historically been open and transparent during the counting process, allowing media to observe. IAM International, which has muscled out the 751 officials and which is overseeing counting, has decided to bar the media during counting except for a five minute photo op.