Boeing's 737 line suffered a second disruption when a train carrying fuselages from Spirit AeroSystems derailed in Montana, sending three of six down an embankment and into a river.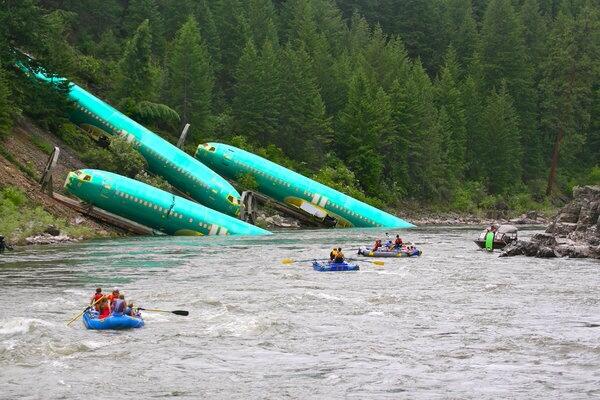 Source: PBS.
The disruption may be short-lived, but nonetheless highlights the issue of relying on Spirit as a sole-source supplier for 737 fuselages. This is the second time in two years there has been a disruption for the 737 line. A tornado struck the Spirit plant in 2012, closing the facility for a short time. Damage was slight, but had the twister been more of a direct hit, the impact on Boeing would have been severe.
With Boeing planning to bring production of the 737 line to 47/mo by 2018 and pondering rate 52 and even rate 60, the company should consider creating a second fuselage production line–and it should be right here in Puget Sound.
While we are not without natural disaster risk here–we've written many times about the earthquake fault lines that run through the area–having two locations for the 737 line makes sense. (We've also said that when Boeing in the past has suggested creating or moving a production line outside Puget Sound, it should point to natural disaster risk diversity rather than beating up the unions, a position we still advocate.)
Where would another 737 fuselage line go? Based on our discussions, Boeing Field might be one possibility. Or the 737-based P-8 Final Assembly Line might move to Boeing Field and the "sawtooth" building in which the P-8 is currently located could become a location. Or, perhaps, Everett. Once the 747 is discontinued (we estimate by the end of this decade, although Boeing officials continue to say it will live on into the next) a second 737 production line could be located here. The timing could be quite convenient: ending the 747 could occur just about the time another rate hike in the 737 line would be needed.
Construction of the new 777X production facility might free up the current 777 production line, presenting another possible option–though we don't see the timing working out as well as the 747-737 scenario.
Regardless, it's clear to us that Boeing needs to look at some options for another 737 production site–and the skilled workers and convenient location argue for Puget Sound.