March 8, 2017, © Leeham Co.: Bombardier CRJ-200s, rapidly being phased out of passenger service and consigned to the scrap yard, proved to be an unexpected success for freighter conversion company (Aeronautical Engineering Inc (AEI).
Converting the CRJ-200 from passenger to freighter as intended to be a bridge between the Boeing 737-400 and 737-800 P2F programs, Robert Convey, SVP Sales and Marketing, told LNC at the annual meeting of ISTAT in San Diego.
Rather than being a program for a handful of conversions, within three years, Convey landed 54 orders and counting.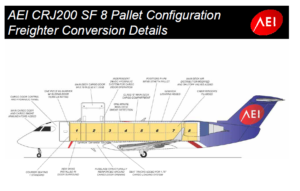 Unexpected success
"We started off three years ago in an area we were not familiar with" Convey said of regional aircraft and freighters. "We saw a gap between [AEI converting] the 737-400 and the 737-800. We needed a bridge."
Convey said AEI approached Bombardier with the idea of converting CRJ200s to freighters. There were about 1,000 airplanes to serve as feedstock. Values were scrap, mainly in the engines. Payload is 15,000 lbs, range is 1,000 miles and there is a growing fleet of FanJet Falcons, Douglas DC-6s, Convair 580s and British Aerospace ATPs that are aging.
The $1.85m conversion puts a CRJ-200 "on the ramp" for $4.5m-$5m.
These factors combined to provide the basis for orders than AEI expected.
Learning the market
Convey didn't know the market.
"I didn't know any of these guys," he said. "They don't go to ISTAT," or any of the other events AEI typically attends. But as he investigated, the factors outlined above and coming to an understanding of the market built the business case.
"We booked 45 orders during the development cycle and we're booking more every day," Convey said.
Customers include the IFL Group in Michigan, a Falcon-CV580-727 operator for FedEx; TSM in Mexico, which flies for DHL; Airest in Estonia, a Saab 340F operator; and AvMax in Canada, which has a large fleet of CRJs and Dash 8s, providing dry lease and ACMI services.
"There's global penetration and there's a lot of interest in the US," he said.
Comparing programs
"We were hoping for 30-50 conversions when we launched and now we're going to be well north of 100," he said.
AEI converted 240 727-100s/200s over the life of this program and expects to convert 150 737-400s by the time this program is over. There is already a backlog of 101 orders and commitments for the 737-800. GECAS is the first customer, for 10.
The conversion program for the Boeing MD-80 has been a disappointment. There have only been 10 with three more orders. By the time the STC was received, the 737-400 became available at attractive prices. The fuselage is common with the 727, meaning containers are common. The narrower MD-80 fuselage requires a different container.
Convey sees two or three MD-80 P2Fs per year for a few years.
Future programs
The 737-800 P2F is the next program, with certification expected this year. Convey sees the 737-900 (Standard) as the next opportunity. Some of these are beginning to trade, but prices are still a bit on the high side.