April 11, 2017: United Airlines is in the midst of a public relations nightmare following Sunday night's incident in which a passenger was dragged off a flight at Chicago O'Hare International Airport.
A new commercial was immediately launched, debuting on the Jimmy Kimmel show. Kimmel had his own caustic remarks.
https://www.youtube.com/watch?v=FwPdWEdbgxY
United also recognized that it needed a new training procedure following the incident. The following is a video for its customer service training.
UAL couldn't avoid becoming the butt of comedic commentary. Ellen Degeneres weighs in.
A new class of service also is the result of the passenger incident.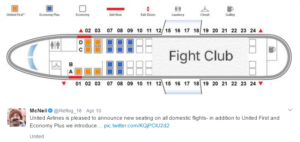 Finally, if all else fails, United has a last resort to remove passengers.