June 2, 2017, © Leeham Co.: Embraer is best known as a Brazilian company, but its US footprint and economic contributions are surprising for those who don't delve into these sorts of things.
Gary Spulak, president, Embraer Aircraft Holding US, outlined EMB's US presence on the first day of two days of pre-Paris Air Show briefings at the company's Melbourne (FL) engineering, production and corporate aircraft center.
31 States
Embraer today has a "taxable" presence in 31 states, Spulak said.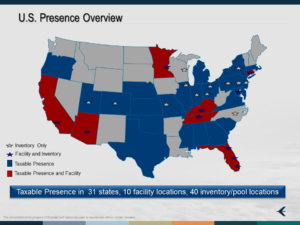 "We are making finished goods in the US for executive and finished jets," Spulak said. Embraer has 12 facilities, including one the proverbial stone's throw from the US space center at Cape Canaveral, a fact that proved important to the company's growth here.
The 12 facilities represent $105m in investments. The first, in Ft. Lauderdale, was established 38 years ago.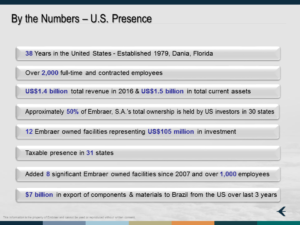 Most of the growth began during the Great Recession, in 2008-2009.
Last year, Embraer generated $1.4bn in revenue in the US. Purchases with the US supply chain and its own production generated $7bn in component exports to Brazil during the past three years. Spulak forecast $21bn in exports during the next seven years.
Expanding in Florida
Embraer has three major facilities in Florida: Ft. Lauderdale, Melbourne and Jacksonville. Another, in Titusville, is where first class seats will be manufactured for the E2 commercial jet, along with seats for its corporate jets. Ground was broken last September. There are just 50 employees here today, growing to 150 within the next few years.
This facility is so new that tests of the automation continues.
Quality control inspections for seats are performed here. Automated leather cutting for seats is operational, trimming time from four or five human hours to under 20 minutes.
Spulak said Embraer looked at 20 states to decide where to site the corporate facilities. It was narrowed to six sites in three states. Three of these were in Florida.
A favorable business climate, a good location from which to deliver business jets and a skilled workforce were among the considerations. The proximity to NASA and Cape Canaveral played a role.
Many of the employees came from NASA ranks, Spulak said.
"This building could have been anywhere in the world," he said. But the NASA presence was important.
Lean Six Sigma Oriented
NASA was lean Six Sigma-oriented. Embraer was already lean Six-Sigma-oriented, providing a smooth transition for employees from NASA to Embraer.
Spulak said the emergence of private, commercial space companies means there will be more competition for employees. Embraer has an active promotion program, which the company hopes will retain and attract employees.