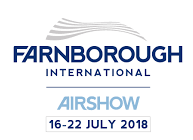 July 18, 2018, © Leeham News, Farnborough: Embraer came roaring back in the first two days of the Farnborough Air Show after a slow year last year.
Boeing's 777F saw a surge of orders and commitments and the 747-8F also landed some new commitments.
Through Tuesday, the Brazilian manufacturer announced orders, options and commitments for 265 members of the E1 and E2 EJet families.
These are:
E1 Family
Republic Airways, Letter of Intent for up to 200 E175s (100 firm+100 option), with conversion rights to the E2 is the US Scope Clause is revised to allow for the heavier airplane.
E2 Family
Helvetic Airways: Letter of Intent for up to 24 E2s consisting of 12 E190-E2s and 12 E195-E2.
Kuwait's Wataniya Airways: order for 10 E195-E2s.
Azul: Letter of Intent for 21 E195-E2s.
Letter of Intent with an Undisclosed customer from Spain for up to 5 E195-E2s
Unspecified
Mauritania Airlines: two E175s..
Letter of Intent with NAC for three E190s.
Boeing 777
DHL: 14 777Fs
Volga-Dnepr/CargoLogicHolding: LOI 29 777Fs, Order, 5 747-8Fs.
The 777F deal is a major boost for the production bridge between the 777 Classic and the 777X, which has been soft. Without a delivery schedule, it's impossible to determine today if the bridge finally solid.
The 747-8F order recalls an announced order by Volga at an air show several years ago for 25 747-8Fs. Most of the orders were never firmed up.