July 18, 2018 © Leeham News, Farnborough: Boeing's P8-A Poseidon, the 737-based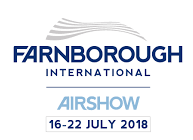 airplane best known for anti-submarine patrols, entered service with the US Navy six years ago.
Since then, Australia, New Zealand, the UK and Norway are among the countries ordering the airplane and the first Navy P8 entered heavy maintenance here.
Boeing produces the P8 at a 1.5/mo rate, which is full rate.
The Navy ordered 117 P8s, but there is potential to order more.
Three-quarters of the Navy's 12 wings have replaced the old prop-jet, Lockheed P-3 Orion by the P8.
Capt. Tony Rossi of the Navy's procurement department told a group of international media that the P8 also performs humanitarian purposes and Search and Rescue operations.