July 19, 2018, © Leeham Co.: Boeing Global Services picked up more than $2bn in new contracts at the Farnborough Air Show, a good boost as it moves into its second year as a stand-alone business unit within The Boeing Co.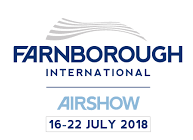 BGS provides maintenance, repair and overhaul services; technical support; supply chain engineering; and passenger-to-freighter conversions, among other things.
Stan Deal, CEO of BGS, said 2017's revenues were $14.5bn and $16.5bn of orders. Last year was the first BGS financial data was segmented from consolidated earnings data. This represented a 6.5% growth over 2016.
In the first quarter this year, revenue grew again, "pointing to a trajectory of growth of 8.8% year-over-year," Deal said.
Second quarter numbers will be released next week.
BGS combined Boeing Commercial Aviation Services and a similar unit in its defense unit.