July 25, 2018, © Leeham News, Farnborough:  A unit of Esterline Corp. that supplies parts for all commercial airliners, including the cockpit for the Embraer E-Jet E2 is creating an advanced control system for Unmanned Systems to keep the US armed service members out of harm's way.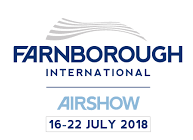 It's appropriately called Harm's Way Controllers, or HaWC®.
Esterline's Mason Products company of Sylmar (CA) is also gearing up to sell this system to the civilian world, beginning with law enforcement, fire departments and other public agencies, says David Tessier, president. The HaWC is used on UAVs, robots that scout dangerous situations, helicopters (providing live situational awareness) and other applications.
Eventually, Tessier expects that HaWC will migrate to uses in environmental surveys, agriculture and inspections for such industries as oil and gas.