July 17, 2018, © Leeham News, Farnborough: Boeing Global Services is studying the world's first passenger-to-freighter conversion program for the 777-300ER, BGS president Stan Deal revealed to LNC today at the Farnborough Air Show.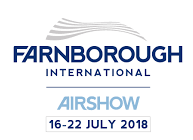 Boeing sells the 777-200LRF as a new freighter and third parties are gearing up for a 777-200ER P2F program, but up to now, there hasn't been a -300ER P2F program contemplated.
The -300ERF would be targeted for the volumetric cargo market as opposed to the density-based market that is served by the 777F.
Deal said BGS hopes to conclude its study by fall. A potential conversion cost is not yet known.