July 19, 2018, © Leeham Co.: Boeing Global Services picked up more than $2bn in new contracts at the Farnborough Air Show, a good boost as it moves into its second year as a stand-alone business unit within The Boeing Co.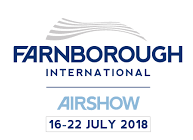 BGS provides maintenance, repair and overhaul services; technical support; supply chain engineering; and passenger-to-freighter conversions, among other things.
Stan Deal, CEO of BGS, said 2017's revenues were $14.5bn and $16.5bn of orders. Last year was the first BGS financial data was segmented from consolidated earnings data. This represented a 6.5% growth over 2016.
In the first quarter this year, revenue grew again, "pointing to a trajectory of growth of 8.8% year-over-year," Deal said.
Second quarter numbers will be released next week.
BGS combined Boeing Commercial Aviation Services and a similar unit in its defense unit.
Full fleet services
It's important to note that though "Boeing" is in the name, BGS provides services across the customer's fleet, including Airbus.
Contracts announced Monday included, as expected, a plethora of Boeing aircraft types. Also included were Hawaiian Airlines'
Airbus A321 and A330 fleets.
BGS in its military services likewise covers Boeing, Lockheed Martin and Northrop Grumman aircraft. BGS also serves space programs.
Strategy
"Three elements of our strategy drives everything we do," Deal said. "There was a big synergy case" to merge Boeing's defense services unit with Boeing Commercial Airplanes' CAS unit. This will be a continuing process, he said.
The second element is BGS investment into expanding its services, such as adding capacity and capabilities for converting passenger airliners into freighters.
BGS and mega-lessor GECAS announced an expansion of the 737-800 P2F commitment the latter has. And in an exclusive reveal Monday to LNC, Deal said BGS is pondering creating a P2F program for the 777-300ER.
BGS launched 100 new investments in the last year covering a range of services. It also acquired companies, all in a drive toward achieving $50bn in revenues within 10 years, a goal set by Muilenburg that many aerospace analysts believe is too ambitious.
Then, BGS has created joint ventures for seats and auxiliary power units.
The airline industry has long been in an investment cycle that's underway, with thousands of new airplanes needed over the next two decades. This expands the need for MRO and other services, which Boeing Co. CEO Dennis Muilenburg has often said is ripe for the company's expansion into this arena.
Related Stories: