July 17, 2018, © Leeham News, Farnborough: Boeing Global Services is studying the world's first passenger-to-freighter conversion program for the 777-300ER, BGS president Stan Deal revealed to LNC today at the Farnborough Air Show.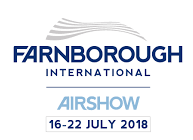 Boeing sells the 777-200LRF as a new freighter and third parties are gearing up for a 777-200ER P2F program, but up to now, there hasn't been a -300ER P2F program contemplated.
The -300ERF would be targeted for the volumetric cargo market as opposed to the density-based market that is served by the 777F.
Deal said BGS hopes to conclude its study by fall. A potential conversion cost is not yet known.
Evaluation and discussions
"We're in an evaluation period and we're having a number of discussions around the world," Deal said in an interview. The discussions compare the 777 production freighter with the -300 P@F concept.
"Is there a market where we would see both complement each other," Deal said, "and, obviously, having a business case that works?"
Deal said the studies "just make sense. If you think about the life cycles of the 777, the -300 is starting to come out [of passenger service]." With the 777X due to enter service in 2020 replacing aging -300ERs, "that creates a feedstock opportunity," Deal said.
BGS is looking at the conversion cost, the feedstock price at retirement from pax service and what the volume/payload-range will be.
The growth of Amazon or Alibaba in China might be targets for the volumetric-based conversion, he said.
Boeing previously considered a -200ER P2F program, but focus is now on th -300ERF concept.