July 18, 2018, © Leeham News, Farnborough: Mitsubishi's MRJ will be supported even if Boeing and Embraer complete a deal to form a new company in which Boeing is an 80% shareholder.
Embraer's E175 and E190 jets will compete with Mitsubishi's MRJ70 and MRJ90 respectively. Boeing entered into a product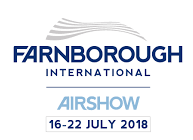 and parts support agreement with Mitsubishi when the MRJ program was launched.
Stan Deal, CEO of Boeing Global Services, said in an interview with LNC that despite the competition, BGS will honor the Boeing commitment to Mitsubishi.
BGS already supports Airbus aircraft, which of course fiercely compete with Boeing.
Balancing competition
BGS's mission from Boeing Co. CEO Dennis Muilenburg is to achieve $50bn in revenue in 10 years. Part of the corporate strategy to do this is for Boeing to bring in-house production of key components previously outsourced.
On the commercial side, this includes but is not limited to seats, avionics, the 777X wings, 737 MAX engine nacelles, the auxiliary power unit and more.
Deal's group offers aftermarket services not only on these but also other component still being produced by its own supply chain. This places BGS in competition with its own vendors.
Mitsubishi was alarmed, according to press reports, about the Embraer deal and what impact this might have on its own agreement with Boeing to support the MRJ.
"Mitsubishi has been a partner on production of [Boeing] airplanes when they stood up the MRJ," Deal said. "We did a lot of work around the support side. We can continue to do the work tech publications, work around product support-type arrangements—the classic entitlement piece of taking an airplane to market. We'll continue to fulfill that.
"When we stood up the services unit, we always said we would do work not only as a service company on Boeing airplanes, but we would explore other people's airplanes," he said.
Deal noted that airlines and defense worlds fly Boeing and other brand airplanes. When total fleet care solutions are considered, "if you can't address the full complement of the fleet for an airline or a government, then the opportunity costs that come out are less. The more you can address a total solution, the more they can take out infrastructure."
The result: Boeing works around some other OEMs in support of their products.
If the Embraer deal proceeds and when it's closed, BGS will go to market with a total offering with Embraer aircraft and Boeing airplanes, Deal said.  BGS will look for synergies between EMB and Boeing services.
When it comes to Mitsubishi, the company should not be worried, Deal said.