July 30, 2018, © Leeham News: thyssenkrupp, the German supplier, is a mouthful to say.
Even its name is different, using the small "t" rather than a capital "T".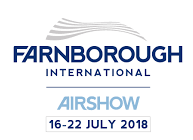 Being from Chicago, I suitably butchered it when I met at the Farnborough Air Show with its CEO, American Laura Holmes.
I won't even attempt to write how I mangled the name, but I didn't feel too bad when I later discovered there is a 15 second YouTube video on its pronunciation: two-sen croup (in German) or tiss-in krup [as in pup] (in English).
Regardless, the company is in an expansion mode internationally—including in Africa.
The Road to Morocco
Tkrupp, for short, is expanding in Morocco, a growing aerospace hub that already includes, Airbus, Boeing, Bombardier, United Technologies are now Tkrupp are among the more than 100 companies with a footprint in Morocco.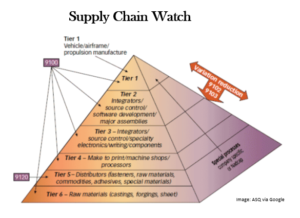 Holmes says that when the doors open for business in Morocco, thyssenkrupp already has several companies lined up and several more have inquired about using this facility to supply them.
Morocco serves Africa and the surrounding areas. It's on the northwest point of this continent and a spur forms part of the narrow Strait of Gibraltar. Tkrupp already has a facility in Tunisia.
There are 10,000-12,000 people employed in the Moroccan cluster.
Holmes said there is a recently opened office in Tokyo and new ones are planned elsewhere in the Asia-Pacific region. Tkrupp also has presence in Korea and China.
Aerospace sector
The company serves a broad set of industries, but in aerospace, one of its specialties is as a supplier of raw materials.
Airbus' Mobile (AL) A320 site, for example, is only a final assembly facility, not a consumer of raw materials, so Tkrupp is not there.
But, said peter McDowell, head of strategy for thyssenkrupp Aerospace, the company recently bid on work at Bombardier in Montreal for the C Series (now Airbus Canada and the A220), for airplanes that will be assembled at the new A220 FAL that will be assembled in Mobile.
A thyssenkrupp unit called TMX Aerospace is dedicated to being a supplier to Boeing.
"The focus of TMX Aerospace is to optimize material and information flow for the Boeing Commercial airplane supply chain," TMX reveals on an otherwise generally unrevealing website.
TMX is a key player with Boeing for Enterprise Resource Planning, or ERP.
ERP isn't new; it's been around for years. In fact, thyssenkrupp's involvement dates to at least 2014. Nor is TMX's contract with Boeing new; the first was signed in 1998 and renewed in 2008. But ERP, Boeing and thyssenkrup appear to be new, or at least broader.
Neither Holmes nor Jeff Luckasavage, president of thyssenkrupp Aerospace in Kent (WA) would answer questions about this line of business, referring them to Boeing.
"I will say there has been a lot of activity and a launch in early June," Holmes said.
"ERP software offers features designed specifically to cater to the needs of aerospace manufacturers." A 2014 article in Global Shop Solutions says. "With a real-time data convergence factor, users can stay up to speed on inventory status, incoming materials and low levels of required parts."
TMX exclusively manages the global aluminum and titanium supply chain for Boeing Commercial Airplanes, a listing on the Internet reveals.