Discussion
Profit Squeeze
It's second quarter earnings season and a number of US airlines reported reduced earnings, squeezed by rising fuel costs.
American and Southwest airlines announced they are curbing expansion. Alaska Airlines said its fuel costs rose for the 10th consecutive quarter, hurting profits that are already squeezed by continuing pressure from its merger with Virgin America.
Other US airlines reporting also cited rising fuel costs as a key reason for lower profits, though rising labor expenses also are a factor.

Oil on the spot market last Thursday closed at $73.43, compared with just under $48 a year ago.
Fleet planning
American announced that it is deferring delivery of 22 Airbus A321neos, which seems counter-intuitive in the face of rising fuel prices.
Officials said deferring capital expenditures was the reason. American previous deferred 40 Boeing 737-8s, concurrent with the order for more than 40 Boeing 787-8/9s which are intended to replace aging, thirsty Boeing 767-300ERs and Airbus A330-200/300s.
Southwest didn't announce any deferrals.
Rising oil prices may give a shot in the arm to some slow-selling aircraft.
Airbus A330neo have stalled at a little more than 200. Officials see a wave of orders coming at the A330ceo nears retirement age or expiration of initial lease terms beginning in 2020-21. But they've long pointed to low oil prices as reducing pressure to order the airplane sooner.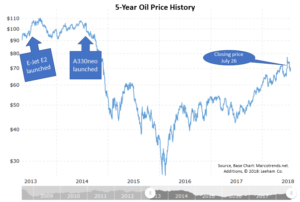 In July 2014, when the A330neo was launch, oil hovered slightly above $100/bbl. Six months later, the price nearly was only half that . A little more than a month later, the price dropped nearly half again.
Sales of the Embraer E2 also languished after the usual launch-customer surge when the program was announced in 2013.
At one point, officials touted more than 600 orders and commitments, but only some 250 of these were firm and few commitments were converted to firm. Additionally, 100 of the E175-E2 orders—the only one on the books—were from the USA's SkyWest Airlines, which can't operate them under current Scope Clause union restrictions.
Another 50 E2 orders, for the E195, were from Air Costa, which ceased operations two years ago. Embraer only took the order off the books this month.
Embraer announced orders and commitments for 300 EJets at the Farnborough Air Show this month. Two hundred of these were for the E175-E1 from the USA's Republic Airways Holdings—another company affected by Scope Clause restrictions.
But rising fuel prices, while not welcome by the airlines, shines a light on prospective orders.
Efficient aircraft hedge oil
John Slattery, president of Embraer Commercial Aviation, told LNC in an email that the "most efficient" aircraft act as hedges against rising fuel.
He wrote:
There's no debating the economic thesis of the E2 gets stronger as oil prices rise.  However, regardless of where oil is, airlines increasingly believe the best possible hedge to oil prices in the future is to have the most efficient aircraft in their fleets.
The discipline to chase efficiencies is further exaggerated in an environment of lowering yields as we have witnessed over the past two years.
In some ways, it's a perfect storm: oil and interest rates are going up and ticket prices are coming down.  Demand for passenger travel continues on its steady upward trajectory, so the world's fleet will continue to grow in absolute numbers.
Older and less efficient aircraft will have to be replaced with an increased diligence and new orders will increasingly focus on the most fuel-efficient aircraft to help airlines protect profitability.
In addition, the true religion of rightsizing becomes all the more evident at these times in the cycle when yields are depressed. This is why I expect LCCs, ULCCs and traditional network carriers be less accepting of long term asset abuse of their fleets in the schedule and will work hard to better match passenger demand with the right-sized aircraft and still maintain frequency.  In particular I expect the E195E2 to be adopted by those carriers that ruthlessly chase efficiencies above 100 but below 150 seats.
Regarding Republic, they currently operate over 180 EJets and need to plan for the natural fleet growth and replacement in the coming decade.  An order for up to 200 E175s seems pragmatic in that context.  I expect the firm element to be in our skyline still this year. Should scope be relieved in the US allowing the E2 to be considered Republic will have the ability to swap the then remaining portion of the order to the E2.  With our hybrid production line we can present to our US customers the best solution respecting the scope limitations.
C Series
Sales of Bombardier's C Series, with a program launch in 2008, languished for years. There were many factors: program delays, aggressive pricing by Airbus and Boeing, weak corporate finances and sales strategy mismanagement at the executive level contributed. So did low oil prices.
But now that Airbus assumed a 50.01% ownership of the C Series program, renaming the family the A220, a strong sales force, a strong balance sheet and the ability to sweeten deals in a way Bombardier never could should boost sales.
Bombardier clearly negotiated deals with jetBlue and start-up Moxy Airlines before the Airbus deals with these two airlines were announced (post July 1, the date the Airbus-C Series ownership closed). But Airbus clearly closed the deal with jetBlue, tying an A320neo upgrade to the A321neo as part of the package.
Still, rising oil prices will make the A220 more attractive than the C Series was in a low-price environment.
LNC will examine the inflection point of fuel in a future article.
To read the rest of the article Login or Subscribe today.