By Scott Hamilton
July 22, 2022, © Leeham News: The Farnborough Air Show produced little in the way of headline news. But Boeing comes away with some momentum. Airbus announced a big order on July 1, well ahead of the show, from China, leaving show orders in high double digits.
Boeing announced orders and commitments for 278 737 MAXes, including 100 firm and 30 options from Delta Air Lines. This order was the first from Delta in 11 years, ending a long-running behind-the-scenes streak of sour relations between the companies.
The order, for the 737-10 MAX, finally fulfills Boeing's goal of getting the -10 into Delta. Boeing had counted on Delta being a launch customer of the airplane in 2017. As reported in my book, Air Wars, The Global Combat Between Airbus and  Boeing, the bake-off between the MAX 10 and the Airbus A321neo came down in favor of the MAX 10. But CFM declined to grant Delta TechOps rights to perform maintenance, repair and overhaul for other airlines and lessors. Pratt & Whitney agreed, tipping the order to Airbus.
Also during the competition, Boeing was engaged in a trade complaint over Bombardier's sale of the C Series to Delta. Boeing alleged Bombardier engaged in price-dumping, contrary to trade laws. Boeing won the trade complaint and a tariff of 292% was assessed on each C Series imported from Canada. However, the final review found no harm to Boeing, which hadn't competed for the order, a required element to impose the tariff. Many observers thought Boeing's timing concurrent with the MAX-neo campaign affected the decision. But as reported in Air Wars, Delta officials said this wasn't a factor.
Final tallies
The final order and commitment tallies give Boeing a clear win. In addition to the important Delta order, Boeing won orders for the MAX from All Nippon Airways, Aviation Capital Group and Qatar Airways. Airbus firmed up a previous commitment from easyJet. It also received a follow-on order from Delta for more A220s (nee C Series).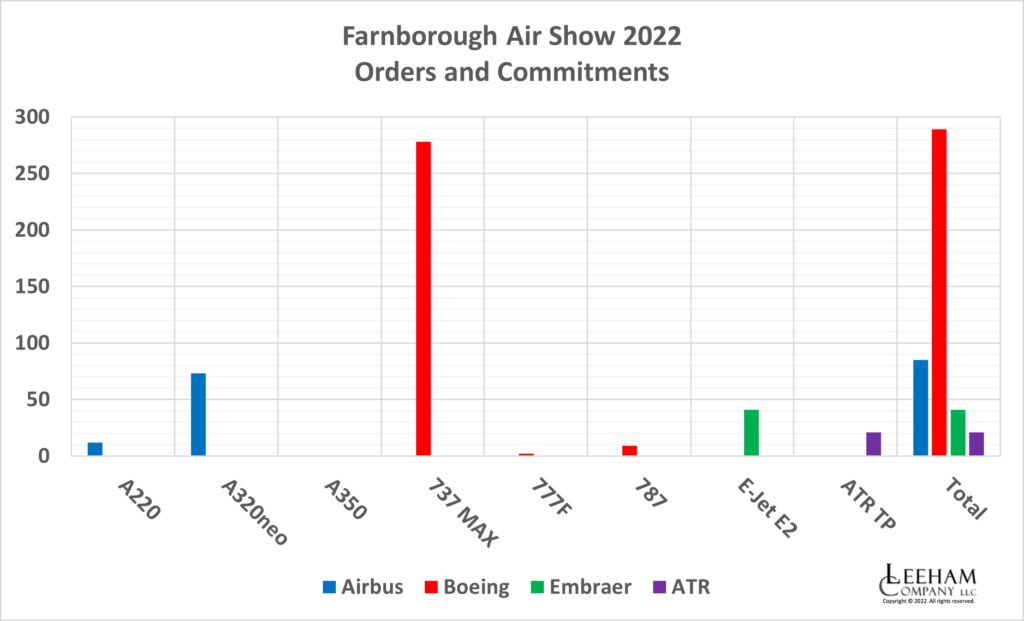 Embraer announced welcome orders for 41 E-195 E2s, including a follow-on order from Porter Airlines. ATR announced orders and commitments for 21 turboprops.
Slow show
This was the first Farnborough Air Show since 2018. The 2020 show, along with the 2021 Paris Air Show, was canceled due to the COVID pandemic.
Little in the way of hard news was expected beyond the orders and commitments, which totaled 436 from Airbus, Boeing, Embraer, and ATR. The total was well below historical numbers, but this, too, was expected.
Airbus' July 1 announcement for an order for 292 A320neo family airplanes from China could just as easily been held for the air show, but it wasn't.