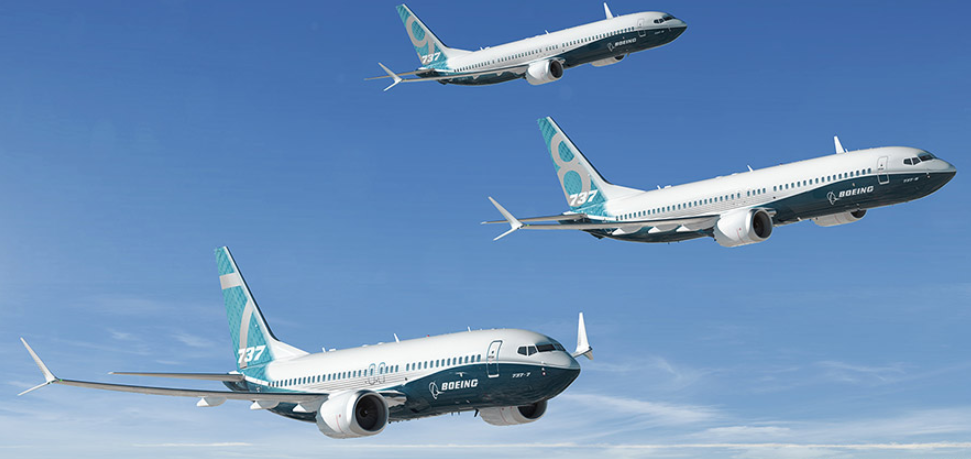 Dec. 17, 2019, © Leeham News: Wall Street analysts were fairly aligned in their reaction to Boeing's decision to suspend production.
Below are excerpt of some of the research notes received by LNA:
Bernstein Research
FAA officials testified to Congress that Boeing's software fix and proposed training approach should resolve MAX issues, but milestones remain to be done. Despite positive messages, certification now appears to be dragging well into January. With more than 400 parked airplanes in inventory, it has become impractical for Boeing to keep adding planes to storage.
It is unclear how long the production halt will last. We have no clarity from the FAA on timing. Boeing, after being admonished, will not speculate on timing. The halt, we believe, could continue through January – or longer if the certification and JOEB approval go more slowly than recent statements suggest. Rate 57 in 2020 appears impractical at this stage and likely shifts to 2021. Boeing plans to redeploy employees to other programs and keep the supply chain ready to restart. The supply chain plan will be tailored by supplier, depending on operational and financial strength. There should be added costs related to operations and customer compensation, but an impact well below yesterday's $7bn fall in Boeing market cap.
Canaccord Genuity
Considering the anticipated two-week December shutdown at the Boeing Renton 737 factory, the MAX production suspension is effectively starting the end of this week. With almost 400 MAX in inventory (basically 9 months at 42/month) and continued uncertainty on the exact timing of the MAX return to service (RTS), it is not surprising Boeing has taken the steps to suspend its production. However, negotiations with suppliers are ongoing, and it is not yet determined at which level key suppliers, such as Spirit AeroSystems, will continue to produce 737 MAX aircraft (note that SPR had been maintaining its production at 52/month). The expected impact on Boeing and its suppliers is significant, but the exact financial details are still to be worked out, and we expect the supply chain to maintain some MAX production, but likely at a lower level than the current production rates.
Boeing indicated that it views a temporary pause as the least disruptive to its supply chain. Boeing in fact indicated that it is not expecting any layoffs or furloughs as a result of the production pause. We believe Boeing will do all possible to ensure that its suppliers are able to maintain their 737 employees to ensure that once Boeing is able to start deliveries of the 737 again, it has the ability to ramp production as quickly as possible. We estimate that the MAX, at 42/month, is a $1.4B monthly cash burn for Boeing. Boeing did maintain its current dividend, and we believe Boeing has sufficient financing capacity to weather an extended pause. However, we also believe part of the decision by Boeing to pause its MAX production is to lessen the perceived pressure on the FAA and other regulators.
We now view an RTS for the MAX in February as a best-case scenario. It is clear that the FAA has been frustrated with Boeing's pressure and public statements regarding the MAX. Boeing is still looking to complete several of its key milestones soon, but this has taken longer than expected. While Boeing has not indicated that the pause will be in place until the successful RTS, at a minimum Boeing will want better visibility on the key milestones, including the JOEB training requirements. Moreover, it is likely Boeing will gradually "wake-up" the factory after the pause, and it could take several months to get rate back to the 42/month level.
Credit Suisse
Suspend production, maintain dividend: Following the conclusion of the December board meeting, Boeing decided to suspend MAX production beginning in January, but did not specify the duration. A suspension was one of three options we and the market have been contemplating ahead of this board meeting (see Pick Your Poison). The others included a decrease in production rate and a suspension or cut to the dividend, neither of which occurred.
Logistics over liquidity: While we were most concerned that continued cash burn and its impact on liquidity would drive this decision, we also recognized that the complex logistics from continued production could also be a factor. Boeing's statement explains that its basis for suspension is the latter, as it wants to "prioritize the delivery of [~400] stored aircraft."
Labor and supply chain: Boeing said that no layoffs or furloughs will result from this action at this time, and that "affected employees will continue 737-related work, or be temporarily assigned to other teams in Puget Sound." It is not clear whether Boeing intends to pay suppliers to continue production or if they will be expected to suspend activity as well. However, Boeing did say that suppliers, along with customers and employees, will be top of mind as it assesses further actions. This may suggest that Boeing will continue to pay its suppliers to produce. This would be a negative from a near-term cash flow standpoint, but a positive from a long-term health of the supply chain standpoint. However, we note that if suppliers continue to produce while Boeing does not, a component inventory mismatch may arise, requiring supplier rates below Boeing in the future.
With uncertain duration and uncertain supply chain treatment, an uncertain impact: In sum, we think Boeing had to take at least one of the options noted above as continuing apace seemed untenable given the unknowable timing of recertification. However, without more detail on the duration of the suspension and the supplier terms, it is difficult to gauge the economic impact of this decision to Boeing and its suppliers. Regarding liquidity, it is also unclear how much cash this decision will actually save given the unclear treatment of the supply chain as well as the fact that Boeing is undertaking no actions to produce labor cost savings. Boeing stated that it would provide financial information regarding the production suspension in connection with its Q4'19 earnings release in late January. We reiterate our Neutral rating and $324 TP. Risks: regulatory and execution.
 JP Morgan
Boeing's MAX announcement leaves many questions unanswered but that was probably inevitable, given the difficulty of forecasting how the aircraft will return. Some of these questions include 1) the duration of the halt, 2) the production pace post-halt, 3) the timing of re-certification, 4) the delivery pace after reaching that milestone, and 5) how Boeing will support the supply chain during the halt, with uncertainty on these topics leaving a broad range of outcomes for modeling. We sense that investors are still looking to a "clean year" in 2022-23 for a sense of how to think about the stock and on this basis, our estimates are little changed today at ~$16bn of FCF, though this is based on several important unknowns. In addition, the path between today and a "clean year" contains risks, such as we saw with today's production halt, which had seemed far less likely several weeks ago. The focus of the halt appears to be inventory management and while the duration is TBD, the release states that it is the least bad option for preserving supply chain health, suggesting to us that it should be fairly short term—perhaps a few months. We cut our PT to $370.
Managing MAX inventory is a priority. Boeing will end 2019 with ~400 MAXs on the balance sheet and with increased uncertainty about re-certification timing and the pace of subsequent deliveries, we believe that management—with good reason—is increasingly concerned about managing this. For example, had Boeing continued producing at ~40/month through 2020, it would build ~500 jets; if deliveries began April 1 at 50/month through year-end, probably an aggressive assumption for the early months, Boeing would still have ended 2020 with 450 jets, 50 more than on Jan 1. What if there is a recession? What if the elements degrade some jets? Clearly, there is risk around the value of this inventory that management seeks to limit. The FAA controls when Boeing can start taking planes out of inventory and customers will play a role in determining the pace at which they are delivered, with the FAA's decision to end delegation of final certification authority adding uncertainty. But Boeing controls the pace at which jets go into inventory, resulting in today's decision. No one knows the future production and delivery cadence but in our model for now, we assume Boeing restarts production at 30/month after Q1 and ramps gradually to 52 during 2021 and 57 during 2022. We assume ~400 deliveries in 2020 and ~800 in 2021. This would leave ~70 aircraft in inventory at YE21.
We see only some cash savings. We estimate that Boeing is burning nearly $2bn per month on the MAX but this will not drop to zero during the halt. For one, Boeing's internal overhead and labor expense will remain in place. Second, we expect Boeing to support suppliers, which comprise ~65% of the 737 cost base, in order to preserve labor and production capabilities. For now, we assume ~50% of supply chain costs hang around, resulting in monthly cash burn that is still solidly > $1bn.
Suspension creates execution challenges. The short-term disruption from the halt will be a challenge for suppliers and we have concerns about the subsequent ramp for both Boeing and suppliers as well. Prior rate changes (i.e. from 47 to 52/mo last year) caused disruptions for suppliers and so we think that going from zero to 30-40/mo and then eventually to > 50/mo will be very challenging. A mitigating factor might be that all these aircraft will be MAXs vs a combination of NGs and MAXs previously; in addition, Boeing and suppliers should be staffed for higher rates, even if this is inefficient near term. However, if some suppliers do not follow Boeing all the way to zero, they will end up with more inventory that will take time to unwind. Note that key supplier SPR has been producing at 52/mo, vs Boeing's 42/mo, and will need to spend a meaningful amount of time below Boeing's production rate on the other side of the suspension/grounding to work through this balance. We expect some impact on all 737 suppliers.