By Scott Hamilton
April 25, 2020, © Leeham News: Boeing today pulled the plug on its proposed joint venture with Embraer. It claimed the Brazilian company failed to meet all the terms and conditions required of the JV agreement.
"Boeing has worked diligently over more than two years to finalize its transaction with Embraer. Over the past several months, we had productive but ultimately unsuccessful negotiations about unsatisfied MTA conditions. We all aimed to resolve those by the initial termination date, but it didn't happen," said Marc Allen, president of Embraer Partnership & Group Operations. "It is deeply disappointing. But we have reached a point where continued negotiation within the framework of the MTA is not going to resolve the outstanding issues."
Global regulatory approval of the JV was won by nine of 10 regulators. But it has been held up by the European Union, which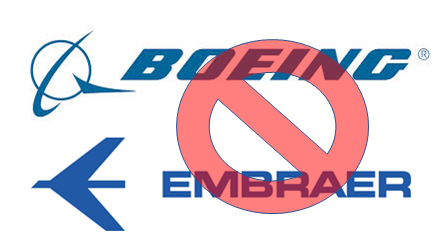 repeatedly halted consideration while asking for more information. A June 23 target date for a decision was recently reset to August.
The JV agreement provides for a $100m break up fee to be paid by Boeing if anti-trust approval isn't forthcoming. By terminating the agreement early, Boeing hopes to avoid paying the fee, LNA is told.
Embraer is sure to protest and take an opposite position. Last month, the company said it continued to "take all the necessary actions" to complete the deal.
As recently as March 24, Boeing CFO Greg Smith "stressed the strategic value" of the partnership.
Deteriorating financial condition
But Boeing's deteriorating financial position, especially since the COVID crisis erupted in the US this year, raised widespread questions whether Boeing can afford the $4.2bn price tag to consummate the JV.
Accepting a federal bailout—which Boeing has yet to do—and spending billions to acquire 80% control of a foreign company would present huge political backlash. Terms of a federal loan may preclude this action anyway. Delta Air Lines CEO Ed Bastien said Delta is precluded from providing financial aid to its equity partners, including Virgin Atlantic, as a condition of its federal monies.
Boeing is preparing to lay off 10,000 workers as early as next week. Spending billions to send work offshore would also present a huge political backlash. It would almost certainly lay a foundation for a strike in 2024 by the IAM 751, Boeing's powerful touch-labor union. The union months ago urged members to begin saving for a strike then over other, unrelated issues.
JP Morgan analysis
JP Morgan provided this cash analysis April 23:
Boeing should need more capital in 2020; our starting point is $10bn-15bn. Our $17bn of cash burn, the Embraer deal ($4bn) and the final dividend payment ($1bn) make for $22bn of cash out in 2020 and we assume management wants to maintain the YE19 cash balance of ~$10bn. January's term loan funds $14bn of this requirement, leaving an $8bn gap and we assume the company raises $10bn. There is also a ~$10bn revolver that we think Boeing prefers to leave untapped as well as ~$6bn of Commercial Paper to repay. As noted, the cash requirement could easily be above our estimate and regardless, a larger capital raise vs the requirement can help limit the perception that Boeing might return to the market later. Moreover, we don't think Boeing would have hired advisors to engage with Treasury about government support if the funding requirement was only a few billion dollars; instead, this step suggests to us something more significant.
Boeing did not specify what terms and conditions were not met.
Airfinance Journal reports the JV agreement "indicates Boeing must pay Embraer a termination fee of $100m for the early termination of the venture. Embraer incurred $34.8m in costs associated with the carve out or separation of its commercial aviation business in the third quarter of 2019."