By the Leeham News Team
Analysis
April 25, 2020, © Leeham News: The Boeing-Embraer joint venture is off.
Boeing called off the JV, saying Embraer didn't satisfy all the conditions required.
The impact to Embraer is more profound than to Boeing.
When the JV was announced in 2019, the advantages for Boeing were:
Access to EMB engineers at a time when Boeing's are aging and ready to retire.
Access to much lower cost base in Brazil.
KC-390 program.
Revenue from EMB Commercial services.
E2 program, though this is tangential.
The advantages for Embraer were:
Access to Boeing's vast customer base, marketing power, balance sheet (again, pre-virus) and capital markets.
Access to work on new airplane programs: NMA (at the time), Future Small Airplanes (single aisle, either to compete with A220 or larger).
Work for its engineers.
A future beyond the struggling E2 and beyond the fanciful turboprop concept.
A future for Embraer Commercial Airplanes, which in LNA's view was increasingly risky.
No future at Boeing—for now
The coronavirus crisis changes everything.
Boeing's balance sheet is in tatters and its cash flow, already under strain, now rests with its Defense unit and a shrinking stream from the 787, 767 and 777 programs. Cash flow from Boeing Global Services is tanking along with the airline industry.
New product development was put on the back burner with the firing of CEO Dennis Muilenburg and replacement by David Calhoun.
LNA understands from several sources, in and out of Boeing, that product development now has ground to a halt. There are no New Market Airplane, no "NMA Lite," no Future Small Airplane in the foreseeable future. There are no customers. It will take years to recover from the virus crisis.
This means Boeing's future for this decade, for better or worse, relies on getting the MAX recertified and deliveries restarted.
The need for access to Embraer engineers and Brazil's lower cost base, for a new airplane, is over—for now.
Paying around $5bn for a company that has a market value closer to $1bn is problematic. Assuming Boeing takes federal money, however the deal may be structured, would present huge political problems if Boeing sends $5bn to Brazil.
Boeing's near-term priority is saving itself and rebuilding its balance sheet. It's hard to see how Embraer fits into this.
The 2020 decade is going to be Boeing's lost decade.
Crushing blow to Embraer
Boeing's exit from the JV is a crushing blow to Embraer, especially now.
Divide this into two parts: pre-virus and post-virus crisis.
Pre-virus, Embraer's engineering force was well down the downslope of the bell curve on the E2 program. The E190/195-E2 are in service. The E175-E2 is in flight testing. Engineers were faced with little substantive work in the coming years. The JV afforded them the opportunity to participate in development of Boeing's NMA (or whatever aircraft was launched). They also had the prospect of creating an airplane to compete against the A220, given's Boeing's balance sheet and strength to do so against Airbus.
Embraer considered launching a new turboprop program. While it is true the dominant turboprops in the market today, the ATR series and the De Havilland Canada Dash-8-400, are aged designs that have been updated, market demand is small. The 20-year forecasts, including Embraer's, generally land in the 2,000-2,500 range. This is a small market to split three ways, not including the home-grown China and Russian products.
The most often stated reason for the program was to keep Embraer's engineering talent. This certainly is a consideration, even for a program cost estimate of some $2bn. But LNA was not convinced this was the best use of Embraer's resources.
Without Boeing, LNA was told Embraer doesn't have the financial resources to pursue even this amount of money.
Sales of the E2 have been disappointing. There are no E175-E2 orders, despite assurances several times non-US deals would be forthcoming. US deals are moot because the airplane is too heavy to be economically viable under pilot labor Scope Clause contracts. E190-E2 sales stood at just 27 at Dec. 31. E195-E2 sales stood at just 171.
Post-crisis
Eighty-six percent of Embraer's deliveries from March through December are concentrated in Brazil and the US. Of these, 58% are E175-E1s destined for US airlines. It's unlikely many of these will be delivered. Brazil's Azul Airlines is scheduled to receive 25 E195-E2s in the nine months this year, the 28%.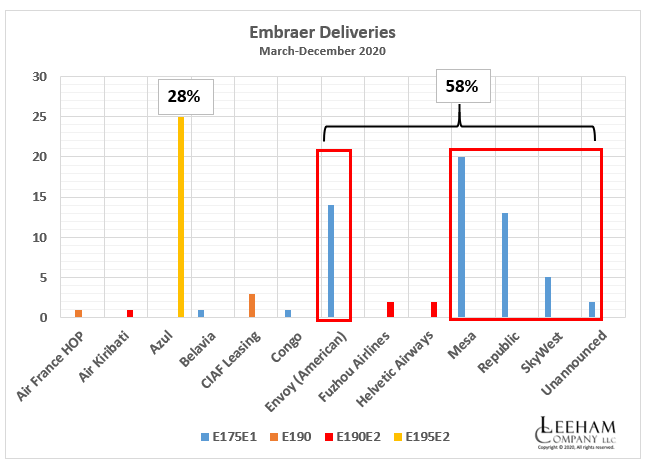 Going Forward
Boeing is likely to accept a US federal loan in the billions of dollars.
Its product strategy is in tatters and on hold indefinitely. Airbus has the advantage, especially with the A220, which can be expanded to a third, larger family member if it chooses.
The 777X, a product about which LNA has been skeptical for the last year, is even more at risk for the lack of demand.
Embraer almost certainly will need a bailout from the Brazilian government. But will the money be available? Given the government's Golden Share and Embraer's position as Brazil's No. 1 exporter, probably so.
But this doesn't solve Embraer's own product strategy challenges.