By Scott Hamilton
April 29, 2020 © Leeham News: Boeing will cut production rate of the 787 in half and the 777 from 5/mo to 3/mo in response to the dramatic drop in demand from the COVID crisis.
Production of the 737 MAX resumes at a low initial rate with a current target of 31/mo next year.
Boeing announced these rates in its first quarter financial results. The company has an operating loss of $1.35bn and a net loss of $641m on revenues of $16bn.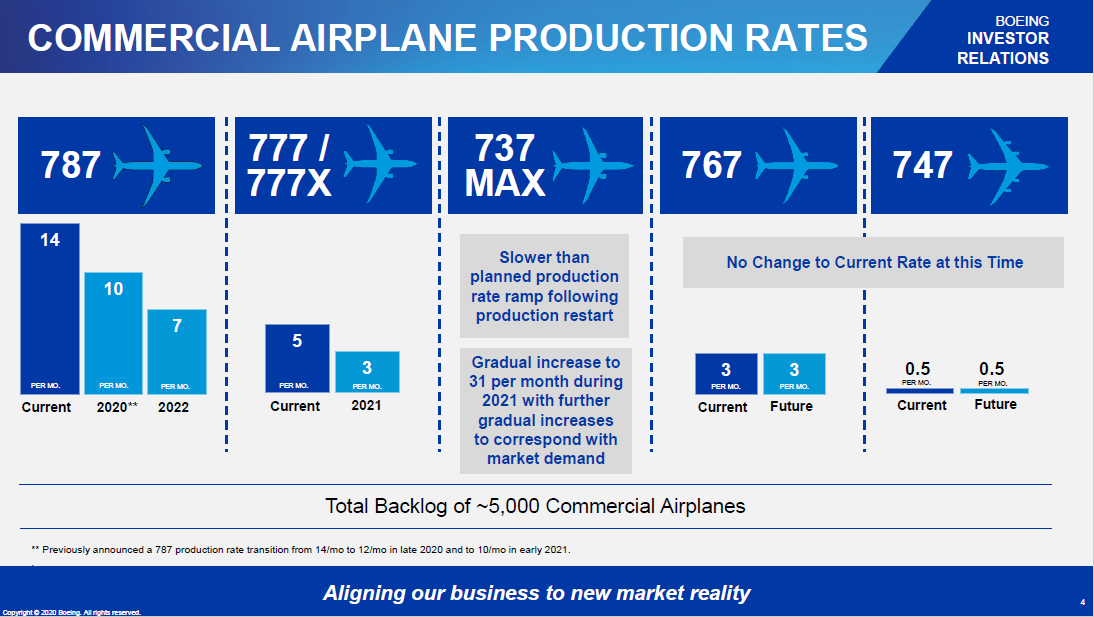 New production rates
The 787 rate was already on its way down before the crisis, from 14 to 12 late this year to 10 a month next year. Now, the rate will drop to 7/mo by 2022.
The combined rate of the 777 Classic and 777X will drop to 3/mo next year. The rate of 5/mo includes production of the 777X, which is delayed a year but in production. More than 10 777-9s have been produced. This rate is going from 2/mo to 1/mo, LNA learned. The delivery rate of the Classics had been at 3.5/mo. Production of the 747 and 767, already at low rates, are unchanged.
In a separate message to employees, CEO David Calhoun said gradual increases in the 737 rate will "correspond" to market demand from 2021. The production rate of the 787 will be reevaluated after the reduction to 7/mo.
Calhoun predicted Monday that it will be 2-3 years before passenger traffic returns to 2019 levels, pre-COVID.
Passenger traffic has "fallen of the cliff," Calhoun said in the employee message. This also negatively affects business at Boeing Global Services, although year-over-year revenues were about the same in the first quarter and profits were up slightly.
Cutting employment
Boeing will reduce employment across the company by 10%, intending to do so through voluntary layoffs and attrition. Boeing Commercial Airplanes will take the hardest hit, cutting employment by 15%.
In an appearance on CNBC's Squawk Box today, Calhoun said, "The industry is not interested in taking delivery of airplanes at the moment. The world market has been stunned. We remain confident it will come back."
Calhoun said that given global government support for airlines, he believes the "thaw" is beginning, while acknowledging that traffic has fallen off the cliff.
Calhoun sees production rate returning to higher levels within a few years after the return of passenger traffic.
Challenges remain
Boeing faces continued challenges. The Wall Street Journal reported the Department of Justice probe of the MAX development is ramping up.
Calhoun said Monday that Boeing needs to borrow more money within the next six months. Reuters reported this morning that Boeing is working on a bond issue of $10bn or more. On CNBC, Calhoun did not rule out tapping federal funding. Reuters reported this could be up to $17bn.
Getting the MAX recertification slipped from June-July to what appears to be August-September. The latest delay appears tied more to COVID delays than to issues that emerged over-and-above the MCAS problem that grounded the airplanes March 13, 2019.
Boeing moved from a supply issue toa demand issue, Calhoun said, as a result of COVID. Boeing and its customers are working on rescheduling deliveries.